Introduction to Super Mario 64 Reversing & Modding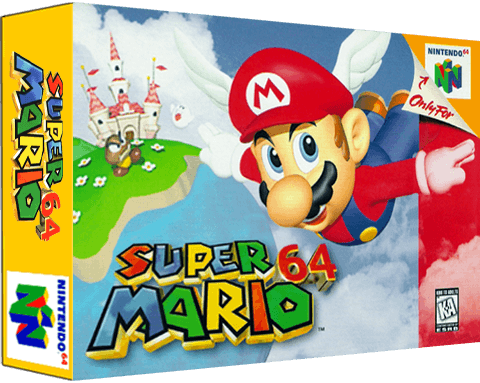 The Game was made by Nintendo EAD and was released in Europe on March 1st, 1997. The development team consisted of 2 System programmers and 3 main programmers with additions from Giles Goddard responsible for the Mario face at the beginning and Takumi Kawagoe responsible for the camera programming .
The source code is almost completely written in C and compiled with IDO C compiler 5.3.
The community has developed some excellent tools for modding Super Mario 64, so if you just want to change assets in the game you don't need to use the full decompilation project, just load up one of these excellent tools.
Creating 3D world with Sketchup
Salmence100 has a twitch account where he streams his process for creating 3D worlds in Sketchup, exporting to .OBJ and importing into Super Mario 64 Editor, currently he is building new levels based on Mario Party 2.
Watch Beginning work on the MP2 Romhack again! from Salmence100 on www.twitch.tv
Adding Actors/Object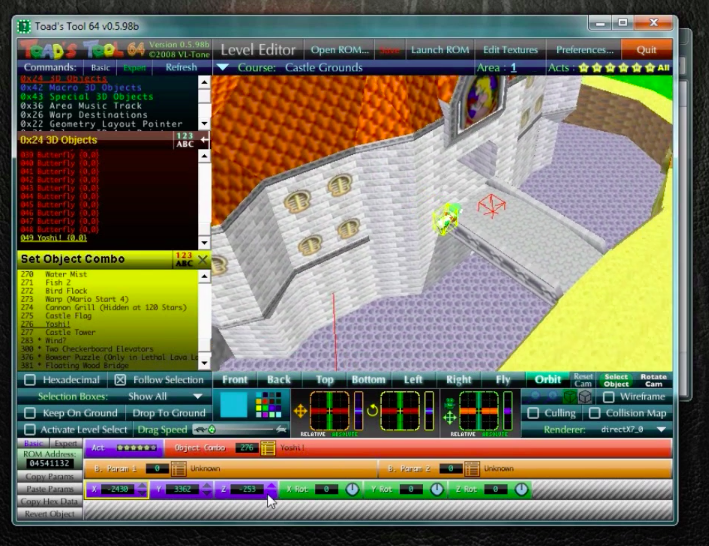 A newly imported object can appear very plain wthout any enemies or coins to collect, so lets add some objects!
You can use the program called "Toad's Tool" to edit the objects for the level, It's quite a simple tool, it allows you to view each world and edit the x,y,z coordinates of each object.
Also contains basic functionality for texture editing.
Changing the level's background
One thing you wil notice with your newly imported level is that it will still have the background image (skybox) of the level you replaced in the ROM. This can be easily changed to give your level a much more unique feeling to it.
Adding warps
Mario wouldn't be Mario without his pipes, lets add some that warp from one part of the level to another!
---
Ports
Thanks to the 2 years of hard work by the Super Mario 64 decompilation team it is now possible to experience native ports of Sm64, no emulator required!
DirectX 12 (Windows)
---
Decompilation
Super Mario 64 was blown wide open when a full decompilation of the source code was acheived by a team of talented individuals.
The project can be rebuilt with the correct version of the IDO C compiler through QEMU-IRIX to produce a byte-identical ROM of the retail game for both North America and Japan.
This allows anyone with basic c-knowledge to hack around and change core gameplay elements, make the game easier/harder/add new mechanics etc.
Introduction to the Decompilation project
Mountainflaw has released a tutorial that covers the basics of the Decompilation project and is the best way to get started for newcomers: Introduction to Super Mario64 Decomp
Checking out the Code
The project is released on Github: GitHub - n64decomp/sm64: A Super Mario 64 decompilation, brought to you by a bunch of clever folks. and can be built on linux and windows but for mac you will need to use something like docker.
git clone https://github.com/n64decomp/sm64.git

Exploring the code
./tools
./tools/sdk-tools
./tools/sdk-tools/tabledesign
./tools/sdk-tools/tabledesign/print.c
./tools/sdk-tools/tabledesign/Makefile
./tools/sdk-tools/tabledesign/tabledesign.c
./tools/sdk-tools/tabledesign/codebook.c
./tools/sdk-tools/tabledesign/estimate.c
./tools/sdk-tools/tabledesign/.gitignore
./tools/sdk-tools/tabledesign/tabledesign.h
./tools/sdk-tools/adpcm
./tools/sdk-tools/adpcm/vadpcm_dec.c
./tools/sdk-tools/adpcm/util.c
./tools/sdk-tools/adpcm/Makefile
./tools/sdk-tools/adpcm/vadpcm.h
./tools/sdk-tools/adpcm/vadpcm_enc.c
./tools/sdk-tools/adpcm/.gitignore
./tools/sdk-tools/adpcm/vpredictor.c
./tools/sdk-tools/adpcm/sampleio.c
./tools/sdk-tools/adpcm/quant.c
./tools/sdk-tools/adpcm/vdecode.c
./tools/sdk-tools/adpcm/vencode.c
./tools/sdk-tools/README.md
./tools/utils.h
./tools/n64graphics_ci_dir
./tools/n64graphics_ci_dir/n64graphics_ci.h
./tools/n64graphics_ci_dir/utils.h
./tools/n64graphics_ci_dir/exoquant
./tools/n64graphics_ci_dir/exoquant/exoquant.c
./tools/n64graphics_ci_dir/exoquant/exoquant.h
./tools/n64graphics_ci_dir/LICENSE
./tools/n64graphics_ci_dir/README.md
./tools/n64graphics_ci_dir/utils.c
./tools/n64graphics_ci_dir/n64graphics_ci.c
./tools/n64cksum.c
./tools/gen_asset_list.cpp
./tools/hashtable.h
./tools/libmio0.h
./tools/Makefile
./tools/libsm64.h
./tools/patch_libultra_math.c
./tools/n64graphics.h
./tools/utf8.c
./tools/stb
./tools/stb/stb_image_write.h
./tools/stb/stb_image.h
./tools/asm_processor
./tools/asm_processor/build.py
./tools/asm_processor/prelude.inc
./tools/asm_processor/asm-processor.py
./tools/utils.c
./tools/sm64tools.LICENSE
./tools/.gitignore
./tools/hashtable.c
./tools/aifc_decode.c
./tools/iplfontutil.c
./tools/clang-tidy.sh
./tools/ido5.3_compiler
./tools/ido5.3_compiler/LICENSE.md
./tools/ido5.3_compiler/usr
./tools/ido5.3_compiler/usr/bin
./tools/ido5.3_compiler/usr/bin/cc
./tools/ido5.3_compiler/usr/lib
./tools/ido5.3_compiler/usr/lib/uopt
./tools/ido5.3_compiler/usr/lib/crt1.o
./tools/ido5.3_compiler/usr/lib/libc.so.1
./tools/ido5.3_compiler/usr/lib/libexc.so
./tools/ido5.3_compiler/usr/lib/err.english.cc
./tools/ido5.3_compiler/usr/lib/libm.so
./tools/ido5.3_compiler/usr/lib/as0
./tools/ido5.3_compiler/usr/lib/ujoin
./tools/ido5.3_compiler/usr/lib/as1
./tools/ido5.3_compiler/usr/lib/libgen.so
./tools/ido5.3_compiler/usr/lib/uld
./tools/ido5.3_compiler/usr/lib/usplit
./tools/ido5.3_compiler/usr/lib/ugen
./tools/ido5.3_compiler/usr/lib/cfe
./tools/ido5.3_compiler/usr/lib/umerge
./tools/ido5.3_compiler/lib
./tools/ido5.3_compiler/lib/libmalloc_old.so
./tools/ido5.3_compiler/lib/libmalloc.so
./tools/ido5.3_compiler/lib/rld
./tools/libsm64.c
./tools/calc_bss.sh
./tools/libmio0.c
./tools/seq_decoder.py
./tools/disassemble_sound.py
./tools/utf8.h
./tools/aiff_extract_codebook.c
./tools/textconv.c
./tools/n64graphics.c
./tools/assemble_sound.py
./asm
./asm/boot.s
./asm/entry.s
./asm/non_matchings
./asm/non_matchings/handle_dialog_text_and_pages_eu.s
./asm/non_matchings/dma_sample_data_jp.s
./asm/non_matchings/process_level_music_dynamics.s
./asm/non_matchings/sequence_channel_process_script_us.s
./asm/non_matchings/seq_channel_layer_process_script_us.s
./asm/non_matchings/func_80314480_jp.s
./asm/non_matchings/seq_channel_layer_process_script_jp.s
./asm/non_matchings/sequence_channel_process_script_jp.s
./asm/non_matchings/func_80314480_us.s
./asm/non_matchings/append_bubble_vertex_buffer_eu.s
./asm/non_matchings/dma_sample_data_us.s
./asm/non_matchings/alloc_bank_or_seq.s
./asm/non_matchings/append_snowflake_vertex_buffer_eu.s
./asm/non_matchings/func_8031784C.s
./asm/decompress.s
./diff.sh
./sm64.us.sha1
./bin
./bin/clouds_skybox.s
./bin/wdw_skybox.s
./bin/bits_skybox.s
./bin/generic.s
./bin/debug_level_select.s
./bin/machine.s
./bin/cloud_floor_skybox.s
./bin/outside.s
./bin/bidw_skybox.s
./bin/mountain.s
./bin/water_skybox.s
./bin/bitfs_skybox.s
./bin/inside.s
./bin/fire.s
./bin/water.s
./bin/snow.s
./bin/effect.s
./bin/bbh_skybox.s
./bin/segment2.s
./bin/eu
./bin/eu/translation_de.s
./bin/eu/translation_fr.s
./bin/eu/translation_en.s
./bin/boo_seg5_unknown.0E288.bin
./bin/ccm_skybox.s
./bin/cave.s
./bin/spooky.s
./bin/grass.s
./bin/sky.s
./bin/title_screen_bg.s
./bin/ssl_skybox.s
./first-diff.py
./Makefile
./CHANGES
./charmap_menu.txt
./include
./include/surface_terrains.h
./include/level_commands.inc
./include/stdlib.h
./include/special_presets.h
./include/sm64.h
./include/macro_presets.h
./include/painting_constants.inc
./include/ultra64.h
./include/config.h
./include/macros.inc
./include/types.h
./include/mario_animation_ids.h
./include/mario_geo_switch_case_ids.h
./include/audio_defines.h
./include/model_ids.h
./include/special_presets.inc
./include/PR
./include/PR/gbi_old.h
./include/PR/os_thread.h
./include/PR/os_vi.h
./include/PR/libaudio.h
./include/PR/mbi.h
./include/PR/os_time.h
./include/PR/libultra.h
./include/PR/ucode.h
./include/PR/gu.h
./include/PR/os_cont.h
./include/PR/os_rdp.h
./include/PR/os_ai.h
./include/PR/os_exception.h
./include/PR/os_misc.h
./include/PR/os_internal.h
./include/PR/os_cache.h
./include/PR/os_message.h
./include/PR/os_eeprom.h
./include/PR/gs2dex.h
./include/PR/abi.h
./include/PR/os_pi.h
./include/PR/sptask.h
./include/PR/gbi.inc
./include/PR/os_libc.h
./include/PR/gbi.h
./include/PR/os_tlb.h
./include/PR/ultratypes.h
./include/segments.h
./include/special_preset_names.h
./include/macro_presets.inc
./include/seq_ids.inc
./include/macros.h
./include/text_menu_strings.h.in
./include/helper_macros.h
./include/object_constants.h
./include/moving_texture.inc
./include/object_fields.h
./include/text_strings.h.in
./include/math.h
./include/macro_preset_names.h
./include/prevent_bss_reordering.h
./include/surface_terrains.inc
./include/model_ids.inc
./include/stdarg.h
./include/geo_commands.inc
./include/seq_ids.h
./include/behavior_data.h
./include/seq_macros.inc
./include/string.h
./.clang-tidy
./extract_assets.py
./diff-settings.sh
./Makefile.split
./README.md
./asmdiff.jp.sh
./sm64.ld
./.gitignore
./asmdiff.us.sh
./actors
./actors/group17.s
./actors/exclamation_box_outline
./actors/exclamation_box_outline/collision.s
./actors/exclamation_box_outline/geo.s
./actors/exclamation_box_outline/model.s
./actors/small_key
./actors/small_key/collision.s
./actors/small_key/geo.s
./actors/small_key/model.s
./actors/smoke
./actors/smoke/collision.s
./actors/smoke/model.s
./actors/group7_geo.s
./actors/tree
./actors/tree/collision.s
./actors/tree/geo.s
./actors/tree/model.s
./actors/koopa_shell
./actors/koopa_shell/collision.s
./actors/koopa_shell/geo.s
./actors/koopa_shell/model.s
./actors/bully
./actors/bully/collision.s
./actors/bully/geo.s
./actors/bully/model.s
./actors/butterfly
./actors/butterfly/collision.s
./actors/butterfly/geo.s
./actors/butterfly/model.s
./actors/common0.s
./actors/mushroom_1up
./actors/mushroom_1up/collision.s
./actors/mushroom_1up/geo.s
./actors/mushroom_1up/model.s
./actors/cyan_fish
./actors/cyan_fish/collision.s
./actors/cyan_fish/geo.s
./actors/cyan_fish/model.s
./actors/group5_geo.s
./actors/haunted_cage
./actors/haunted_cage/collision.s
./actors/haunted_cage/geo.s
./actors/haunted_cage/model.s
./actors/scuttlebug
./actors/scuttlebug/collision.s
./actors/scuttlebug/geo.s
./actors/scuttlebug/model.s
./actors/group13.s
./actors/lakitu_cameraman
./actors/lakitu_cameraman/collision.s
./actors/lakitu_cameraman/geo.s
./actors/lakitu_cameraman/model.s
./actors/white_particle_small
./actors/white_particle_small/collision.s
./actors/white_particle_small/model.s
./actors/bobomb
./actors/bobomb/collision.s
./actors/bobomb/geo.s
./actors/bobomb/model.s
./actors/group0.s
./actors/yoshi_egg
./actors/yoshi_egg/collision.s
./actors/yoshi_egg/geo.s
./actors/yoshi_egg/model.s
./actors/exclamation_box
./actors/exclamation_box/collision.s
./actors/exclamation_box/geo.s
./actors/exclamation_box/actor.s
./actors/exclamation_box/model.s
./actors/snowman
./actors/snowman/collision.s
./actors/snowman/geo.s
./actors/snowman/model.s
./actors/group1_geo.s
./actors/empty
./actors/empty/collision.s
./actors/empty/geo.s
./actors/empty/model.s
./actors/water_mine
./actors/water_mine/collision.s
./actors/water_mine/geo.s
./actors/water_mine/model.s
./actors/spiny
./actors/spiny/collision.s
./actors/spiny/geo.s
./actors/spiny/model.s
./actors/pebble
./actors/pebble/collision.s
./actors/pebble/model.s
./actors/wiggler_body_part
./actors/wiggler_body_part/geo.s
./actors/group3_geo.s
./actors/chuckya
./actors/chuckya/collision.s
./actors/chuckya/geo.s
./actors/chuckya/model.s
./actors/piranha_plant
./actors/piranha_plant/collision.s
./actors/piranha_plant/geo.s
./actors/piranha_plant/model.s
./actors/warp_collision
./actors/warp_collision/collision.s
./actors/warp_collision/model.s
./actors/group4.s
./actors/bowling_ball
./actors/bowling_ball/collision.s
./actors/bowling_ball/geo.s
./actors/bowling_ball/model.s
./actors/heart
./actors/heart/collision.s
./actors/heart/geo.s
./actors/heart/model.s
./actors/klepto
./actors/klepto/collision.s
./actors/klepto/geo.s
./actors/klepto/model.s
./actors/group4_geo.s
./actors/water_waves
./actors/water_waves/collision.s
./actors/water_waves/geo.s
./actors/water_waves/model.s
./actors/thwomp
./actors/thwomp/collision.s
./actors/thwomp/geo.s
./actors/thwomp/model.s
./actors/monty_mole_hole
./actors/monty_mole_hole/collision.s
./actors/monty_mole_hole/model.s
./actors/group14.s
./actors/penguin
./actors/penguin/collision.s
./actors/penguin/geo.s
./actors/penguin/model.s
./actors/bomb
./actors/bomb/collision.s
./actors/bomb/geo.s
./actors/bomb/model.s
./actors/cannon_barrel
./actors/cannon_barrel/collision.s
./actors/cannon_barrel/geo.s
./actors/cannon_barrel/model.s
./actors/leaves
./actors/leaves/collision.s
./actors/leaves/geo.s
./actors/leaves/model.s
./actors/water_ring
./actors/water_ring/collision.s
./actors/water_ring/geo.s
./actors/water_ring/model.s
./actors/group10.s
./actors/warp_pipe
./actors/warp_pipe/collision.s
./actors/warp_pipe/geo.s
./actors/warp_pipe/model.s
./actors/manta
./actors/manta/collision.s
./actors/manta/geo.s
./actors/manta/model.s
./actors/group6_geo.s
./actors/bookend
./actors/bookend/collision.s
./actors/bookend/geo.s
./actors/bookend/model.s
./actors/transparent_star
./actors/transparent_star/collision.s
./actors/transparent_star/geo.s
./actors/transparent_star/model.s
./actors/mad_piano
./actors/mad_piano/collision.s
./actors/mad_piano/geo.s
./actors/mad_piano/model.s
./actors/white_particle
./actors/white_particle/collision.s
./actors/white_particle/geo.s
./actors/white_particle/model.s
./actors/cannon_base
./actors/cannon_base/collision.s
./actors/cannon_base/geo.s
./actors/cannon_base/model.s
./actors/chair
./actors/chair/collision.s
./actors/chair/geo.s
./actors/chair/model.s
./actors/group2_geo.s
./actors/snufit
./actors/snufit/collision.s
./actors/snufit/geo.s
./actors/snufit/model.s
./actors/chillychief
./actors/chillychief/collision.s
./actors/chillychief/geo.s
./actors/chillychief/model.s
./actors/group9.s
./actors/dorrie
./actors/dorrie/collision.s
./actors/dorrie/geo.s
./actors/dorrie/model.s
./actors/hoot
./actors/hoot/collision.s
./actors/hoot/geo.s
./actors/hoot/model.s
./actors/group3.s
./actors/yellow_sphere
./actors/yellow_sphere/collision.s
./actors/yellow_sphere/geo.s
./actors/yellow_sphere/model.s
./actors/group7.s
./actors/group0_geo.s
./actors/blue_fish
./actors/blue_fish/collision.s
./actors/blue_fish/geo.s
./actors/blue_fish/model.s
./actors/bubble
./actors/bubble/collision.s
./actors/bubble/geo.s
./actors/bubble/model.s
./actors/spiny_egg
./actors/spiny_egg/collision.s
./actors/spiny_egg/geo.s
./actors/spiny_egg/model.s
./actors/burn_smoke
./actors/burn_smoke/collision.s
./actors/burn_smoke/geo.s
./actors/burn_smoke/model.s
./actors/cannon_lid
./actors/cannon_lid/collision.s
./actors/cannon_lid/geo.s
./actors/cannon_lid/model.s
./actors/skeeter
./actors/skeeter/collision.s
./actors/skeeter/geo.s
./actors/skeeter/model.s
./actors/whomp
./actors/whomp/collision.s
./actors/whomp/geo.s
./actors/whomp/model.s
./actors/metal_box
./actors/metal_box/collision.s
./actors/metal_box/geo.s
./actors/metal_box/model.s
./actors/water_bubble
./actors/water_bubble/collision.s
./actors/water_bubble/geo.s
./actors/water_bubble/model.s
./actors/wooden_signpost
./actors/wooden_signpost/collision.s
./actors/wooden_signpost/geo.s
./actors/wooden_signpost/model.s
./actors/mips
./actors/mips/collision.s
./actors/mips/geo.s
./actors/mips/model.s
./actors/sparkle_animation
./actors/sparkle_animation/collision.s
./actors/sparkle_animation/geo.s
./actors/sparkle_animation/model.s
./actors/tornado
./actors/tornado/collision.s
./actors/tornado/geo.s
./actors/tornado/model.s
./actors/star
./actors/star/collision.s
./actors/star/geo.s
./actors/star/model.s
./actors/group15.s
./actors/group10_geo.s
./actors/king_bobomb
./actors/king_bobomb/collision.s
./actors/king_bobomb/geo.s
./actors/king_bobomb/model.s
./actors/wiggler
./actors/wiggler/collision.s
./actors/wiggler/geo.s
./actors/wiggler/model.s
./actors/group12_geo.s
./actors/mr_i_eyeball
./actors/mr_i_eyeball/collision.s
./actors/mr_i_eyeball/geo.s
./actors/mr_i_eyeball/model.s
./actors/group11.s
./actors/heave_ho
./actors/heave_ho/collision.s
./actors/heave_ho/geo.s
./actors/heave_ho/model.s
./actors/coin
./actors/coin/collision.s
./actors/coin/geo.s
./actors/coin/model.s
./actors/koopa_flag
./actors/koopa_flag/collision.s
./actors/koopa_flag/geo.s
./actors/koopa_flag/model.s
./actors/lakitu_enemy
./actors/lakitu_enemy/collision.s
./actors/lakitu_enemy/geo.s
./actors/lakitu_enemy/model.s
./actors/mist
./actors/mist/collision.s
./actors/mist/geo.s
./actors/mist/model.s
./actors/breakable_box
./actors/breakable_box/collision.s
./actors/breakable_box/geo.s
./actors/breakable_box/model.s
./actors/bird
./actors/bird/collision.s
./actors/bird/geo.s
./actors/bird/model.s
./actors/capswitch
./actors/capswitch/collision.s
./actors/capswitch/geo.s
./actors/capswitch/model.s
./actors/koopa
./actors/koopa/collision.s
./actors/koopa/geo.s
./actors/koopa/model.s
./actors/springboard
./actors/springboard/collision.s
./actors/springboard/geo.s
./actors/springboard/model.s
./actors/impact_ring
./actors/impact_ring/collision.s
./actors/impact_ring/geo.s
./actors/impact_ring/model.s
./actors/toad
./actors/toad/collision.s
./actors/toad/geo.s
./actors/toad/model.s
./actors/amp
./actors/amp/collision.s
./actors/amp/geo.s
./actors/amp/model.s
./actors/stomp_smoke
./actors/stomp_smoke/collision.s
./actors/stomp_smoke/geo.s
./actors/stomp_smoke/model.s
./actors/mr_i_iris
./actors/mr_i_iris/collision.s
./actors/mr_i_iris/geo.s
./actors/mr_i_iris/model.s
./actors/walk_smoke
./actors/walk_smoke/collision.s
./actors/walk_smoke/geo.s
./actors/walk_smoke/model.s
./actors/flame
./actors/flame/collision.s
./actors/flame/geo.s
./actors/flame/model.s
./actors/eyerok
./actors/eyerok/collision.s
./actors/eyerok/geo.s
./actors/eyerok/model.s
./actors/blue_coin_switch
./actors/blue_coin_switch/collision.s
./actors/blue_coin_switch/geo.s
./actors/blue_coin_switch/model.s
./actors/swoop
./actors/swoop/collision.s
./actors/swoop/geo.s
./actors/swoop/model.s
./actors/common1_geo.s
./actors/group16_geo.s
./actors/spindrift
./actors/spindrift/collision.s
./actors/spindrift/geo.s
./actors/spindrift/model.s
./actors/boo_castle
./actors/boo_castle/collision.s
./actors/boo_castle/geo.s
./actors/boo_castle/model.s
./actors/group2.s
./actors/explosion
./actors/explosion/collision.s
./actors/explosion/geo.s
./actors/explosion/model.s
./actors/pokey
./actors/pokey/collision.s
./actors/pokey/geo.s
./actors/pokey/model.s
./actors/group8.s
./actors/clam_shell
./actors/clam_shell/collision.s
./actors/clam_shell/geo.s
./actors/clam_shell/model.s
./actors/book
./actors/book/collision.s
./actors/book/geo.s
./actors/book/model.s
./actors/impact_smoke
./actors/impact_smoke/collision.s
./actors/impact_smoke/geo.s
./actors/impact_smoke/model.s
./actors/treasure_chest
./actors/treasure_chest/collision.s
./actors/treasure_chest/geo.s
./actors/treasure_chest/model.s
./actors/boo
./actors/boo/collision.s
./actors/boo/geo.s
./actors/boo/model.s
./actors/group14_geo.s
./actors/sushi
./actors/sushi/collision.s
./actors/sushi/geo.s
./actors/sushi/model.s
./actors/blargg
./actors/blargg/collision.s
./actors/blargg/geo.s
./actors/blargg/model.s
./actors/group6.s
./actors/bullet_bill
./actors/bullet_bill/collision.s
./actors/bullet_bill/geo.s
./actors/bullet_bill/model.s
./actors/yoshi
./actors/yoshi/collision.s
./actors/yoshi/geo.s
./actors/yoshi/model.s
./actors/goomba
./actors/goomba/collision.s
./actors/goomba/geo.s
./actors/goomba/model.s
./actors/monty_mole
./actors/monty_mole/collision.s
./actors/monty_mole/geo.s
./actors/monty_mole/model.s
./actors/group8_geo.s
./actors/whirlpool
./actors/whirlpool/collision.s
./actors/whirlpool/model.s
./actors/group13_geo.s
./actors/fwoosh
./actors/fwoosh/collision.s
./actors/fwoosh/geo.s
./actors/fwoosh/model.s
./actors/group16.s
./actors/seaweed
./actors/seaweed/collision.s
./actors/seaweed/geo.s
./actors/seaweed/model.s
./actors/moneybag
./actors/moneybag/collision.s
./actors/moneybag/geo.s
./actors/moneybag/model.s
./actors/power_meter
./actors/power_meter/collision.s
./actors/power_meter/model.s
./actors/dirt
./actors/dirt/collision.s
./actors/dirt/geo.s
./actors/dirt/model.s
./actors/common1.s
./actors/bowser_flame
./actors/bowser_flame/collision.s
./actors/bowser_flame/geo.s
./actors/bowser_flame/model.s
./actors/chain_ball
./actors/chain_ball/collision.s
./actors/chain_ball/geo.s
./actors/chain_ball/model.s
./actors/yellow_sphere_small
./actors/yellow_sphere_small/collision.s
./actors/yellow_sphere_small/geo.s
./actors/yellow_sphere_small/model.s
./actors/bowser
./actors/bowser/collision.s
./actors/bowser/geo.s
./actors/bowser/model.s
./actors/poundable_pole
./actors/poundable_pole/collision.s
./actors/poundable_pole/geo.s
./actors/poundable_pole/model.s
./actors/unagi
./actors/unagi/collision.s
./actors/unagi/geo.s
./actors/unagi/model.s
./actors/group11_geo.s
./actors/group12.s
./actors/test_platform
./actors/test_platform/collision.s
./actors/test_platform/geo.s
./actors/test_platform/model.s
./actors/mario
./actors/mario/collision.s
./actors/mario/geo.s
./actors/mario/model.s
./actors/group1.s
./actors/group15_geo.s
./actors/chain_chomp
./actors/chain_chomp/collision.s
./actors/chain_chomp/geo.s
./actors/chain_chomp/model.s
./actors/water_splash
./actors/water_splash/collision.s
./actors/water_splash/geo.s
./actors/water_splash/model.s
./actors/group9_geo.s
./actors/ukiki
./actors/ukiki/collision.s
./actors/ukiki/geo.s
./actors/ukiki/model.s
./actors/bubba
./actors/bubba/collision.s
./actors/bubba/geo.s
./actors/bubba/model.s
./actors/bub
./actors/bub/collision.s
./actors/bub/geo.s
./actors/bub/model.s
./actors/purple_switch
./actors/purple_switch/collision.s
./actors/purple_switch/geo.s
./actors/purple_switch/model.s
./actors/common0_geo.s
./actors/bowser_key
./actors/bowser_key/collision.s
./actors/bowser_key/geo.s
./actors/bowser_key/model.s
./actors/sparkle
./actors/sparkle/collision.s
./actors/sparkle/geo.s
./actors/sparkle/model.s
./actors/checkerboard_platform
./actors/checkerboard_platform/collision.s
./actors/checkerboard_platform/geo.s
./actors/checkerboard_platform/model.s
./actors/flyguy
./actors/flyguy/collision.s
./actors/flyguy/geo.s
./actors/flyguy/model.s
./actors/door
./actors/door/collision.s
./actors/door/geo.s
./actors/door/model.s
./actors/peach
./actors/peach/collision.s
./actors/peach/geo.s
./actors/peach/model.s
./actors/sand
./actors/sand/collision.s
./actors/sand/model.s
./actors/mario_cap
./actors/mario_cap/collision.s
./actors/mario_cap/geo.s
./actors/mario_cap/model.s
./actors/group17_geo.s
./actors/group5.s
./.clang-format
./.gitattributes
./Jenkinsfile
./rename_sym.sh
./undefined_syms.txt
./enhancements
./enhancements/crash_font.bin
./enhancements/mem_error_screen.inc.c
./enhancements/crash.inc.c
./enhancements/dyn_light.inc.c
./enhancements/README.md
./enhancements/crash.h
./enhancements/crash.inc.s
./enhancements/fps.inc.c
./enhancements/record_demo
./enhancements/record_demo/RecordDemo.js
./enhancements/record_demo/record_demo.inc.c
./lib
./lib/asm
./lib/asm/bcopy.s
./lib/asm/__osGetCause.s
./lib/asm/__osDisableInt.s
./lib/asm/__osProbeTLB.s
./lib/asm/bzero.s
./lib/asm/osUnmapTLBAll.s
./lib/asm/__osSetSR.s
./lib/asm/__osExceptionPreamble.s
./lib/asm/osSetIntMask.s
./lib/asm/osInvalICache.s
./lib/asm/osMapTLB.s
./lib/asm/__osSetFpcCsr.s
./lib/asm/osWritebackDCacheAll.s
./lib/asm/osWritebackDCache.s
./lib/asm/__osSetCompare.s
./lib/asm/__osRestoreInt.s
./lib/asm/osGetCount.s
./lib/asm/osMapTLBRdb.s
./lib/asm/__osGetSR.s
./lib/asm/osInvalDCache.s
./lib/ipl3_font.png
./lib/PR
./lib/PR/f3dex
./lib/PR/f3dex/F3DLX_NoN_data.bin
./lib/PR/f3dex/L3DEX.bin
./lib/PR/f3dex/F3DLX_NoN.bin
./lib/PR/f3dex/F3DLX_Rej.bin
./lib/PR/f3dex/F3DLX_data.bin
./lib/PR/f3dex/F3DEX.bin
./lib/PR/f3dex/F3DEX_NoN_data.bin
./lib/PR/f3dex/F3DEX_data.bin
./lib/PR/f3dex/F3DEX_NoN.bin
./lib/PR/f3dex/F3DLX_Rej_data.bin
./lib/PR/f3dex/F3DLX.bin
./lib/PR/f3dex/L3DEX_data.bin
./lib/PR/boot
./lib/PR/boot/F3D_boot.bin
./lib/PR/s2dex
./lib/PR/s2dex/S2DEX_data.bin
./lib/PR/s2dex/S2DEX.bin
./lib/PR/f3d
./lib/PR/f3d/old
./lib/PR/f3d/old/F3D.bin
./lib/PR/f3d/old/F3D_data.bin
./lib/PR/f3d/new
./lib/PR/f3d/new/F3D.bin
./lib/PR/f3d/new/F3D_data.bin
./lib/PR/audio
./lib/PR/audio/aspMain.bin
./lib/PR/audio/aspMain_data.bin
./lib/PR/f3dex2
./lib/PR/f3dex2/F3DEX2_NoN.bin
./lib/PR/f3dex2/L3DEX2_data.bin
./lib/PR/f3dex2/F3DZEX_data.bin
./lib/PR/f3dex2/F3DLX2_Rej_data.bin
./lib/PR/f3dex2/F3DEX2_data.bin
./lib/PR/f3dex2/L3DEX2.bin
./lib/PR/f3dex2/F3DEX2.bin
./lib/PR/f3dex2/F3DLX2_Rej.bin
./lib/PR/f3dex2/F3DZEX.bin
./lib/PR/f3dex2/F3DEX2_NoN_data.bin
./lib/rsp.s
./lib/src
./lib/src/__osSiRawStartDma.c
./lib/src/NaN.c
./lib/src/guRotateF.c
./lib/src/osPiRawStartDma.c
./lib/src/__osAiDeviceBusy.c
./lib/src/osViBlack.c
./lib/src/osSpTaskYield.c
./lib/src/guMtxF2L.c
./lib/src/osContInit.c
./lib/src/__osAtomicDec.c
./lib/src/__osSpDeviceBusy.c
./lib/src/osSpTaskLoadGo.c
./lib/src/osStartThread.c
./lib/src/osAiSetNextBuffer.c
./lib/src/osAiSetFrequency.c
./lib/src/osAi.h
./lib/src/osCreateMesgQueue.c
./lib/src/__osSpRawStartDma.c
./lib/src/osPiStartDma.c
./lib/src/__osViInit.c
./lib/src/guLookAtRef.c
./lib/src/__osDevMgrMain.c
./lib/src/guPerspectiveF.c
./lib/src/osContStartReadData.c
./lib/src/osSendMesg.c
./lib/src/osViSetEvent.c
./lib/src/_Printf.c
./lib/src/osEepromWrite.c
./lib/src/string.c
./lib/src/__osSiDeviceBusy.c
./lib/src/osContInternal.h
./lib/src/osVirtualToPhysical.c
./lib/src/osEepromProbe.c
./lib/src/osRecvMesg.c
./lib/src/__osSiRawReadIo.c
./lib/src/sprintf.c
./lib/src/libaudio_internal.h
./lib/src/osPiRawReadIo.c
./lib/src/guScaleF.c
./lib/src/math
./lib/src/math/llconv.c
./lib/src/math/sinf.c
./lib/src/math/llmuldiv.c
./lib/src/math/cosf.c
./lib/src/__osDequeueThread.c
./lib/src/__osSpSetStatus.c
./lib/src/__osSpSetPc.c
./lib/src/osGetThreadPri.c
./lib/src/printf.h
./lib/src/sqrtf.c
./lib/src/_Ldtob.c
./lib/src/osViSetSpecialFeatures.c
./lib/src/osSetEventMesg.c
./lib/src/osSpTaskYielded.c
./lib/src/osSetTimer.c
./lib/src/osViSetMode.c
./lib/src/__osSiRawWriteIo.c
./lib/src/osDestroyThread.c
./lib/src/kdebugserver.c
./lib/src/guOrthoF.c
./lib/src/osPiGetCmdQueue.c
./lib/src/osInitialize.c
./lib/src/osEepromLongRead.c
./lib/src/ldiv.c
./lib/src/_Litob.c
./lib/src/osAiGetLength.c
./lib/src/osEepromRead.c
./lib/src/osViSwapBuffer.c
./lib/src/guNormalize.c
./lib/src/__osSpGetStatus.c
./lib/src/libultra_internal.h
./lib/src/osJamMesg.c
./lib/src/osGetTime.c
./lib/src/osSetThreadPri.c
./lib/src/osCreateViManager.c
./lib/src/osEepromLongWrite.c
./lib/src/alBnkfNew.c
./lib/src/hardware.h
./lib/src/__osSyncPutChars.c
./lib/src/__osSiCreateAccessQueue.c
./lib/src/osCreatePiManager.c
./lib/src/__osViSwapContext.c
./lib/src/osTimer.c
./lib/src/osCreateThread.c
./lib/src/guTranslateF.c
./lib/src/osSetTime.c
./lib/src/osViData.c
./lib/src/__osViGetCurrentContext.c
./lib/src/__osPiCreateAccessQueue.c
./charmap.txt
./doxygen
./doxygen/logo.png
./text
./text/us
./text/us/star.s.in
./text/us/dialog.s.in
./text/us/debug.s.in
./text/us/level.s.in
./text/jp
./text/jp/star.s.in
./text/jp/dialog.s.in
./text/jp/debug.s.in
./text/jp/level.s.in
./text/eu
./text/eu/de
./text/eu/de/star.s.in
./text/eu/de/dialog.s.in
./text/eu/de/level.s.in
./text/eu/fr
./text/eu/fr/star.s.in
./text/eu/fr/dialog.s.in
./text/eu/fr/level.s.in
./text/eu/en
./text/eu/en/star.s.in
./text/eu/en/dialog.s.in
./text/eu/en/level.s.in
./assets.json
./Doxyfile
./levels
./levels/sl
./levels/sl/header.s
./levels/sl/script.s
./levels/sl/unused_ice_shard
./levels/sl/unused_ice_shard/geo.s
./levels/sl/unused_ice_shard/model.s
./levels/sl/level.yaml
./levels/sl/snow_mound
./levels/sl/snow_mound/collision.s
./levels/sl/snow_mound/geo.s
./levels/sl/snow_mound/model.s
./levels/sl/areas
./levels/sl/areas/1
./levels/sl/areas/1/collision.s
./levels/sl/areas/1/7
./levels/sl/areas/1/7/model.s
./levels/sl/areas/1/macro.s
./levels/sl/areas/1/6
./levels/sl/areas/1/6/model.s
./levels/sl/areas/1/1
./levels/sl/areas/1/1/model.s
./levels/sl/areas/1/geo.s
./levels/sl/areas/1/movtext.s
./levels/sl/areas/1/4
./levels/sl/areas/1/4/model.s
./levels/sl/areas/1/3
./levels/sl/areas/1/3/model.s
./levels/sl/areas/1/2
./levels/sl/areas/1/2/model.s
./levels/sl/areas/1/5
./levels/sl/areas/1/5/model.s
./levels/sl/areas/2
./levels/sl/areas/2/collision.s
./levels/sl/areas/2/macro.s
./levels/sl/areas/2/1
./levels/sl/areas/2/1/model.s
./levels/sl/areas/2/geo.s
./levels/sl/areas/2/4
./levels/sl/areas/2/4/model.s
./levels/sl/areas/2/3
./levels/sl/areas/2/3/model.s
./levels/sl/areas/2/2
./levels/sl/areas/2/2/model.s
./levels/sl/geo.s
./levels/sl/unused_cracked_ice
./levels/sl/unused_cracked_ice/collision.s
./levels/sl/unused_cracked_ice/geo.s
./levels/sl/unused_cracked_ice/model.s
./levels/sl/texture.s
./levels/sl/leveldata.s
./levels/jrb
./levels/jrb/floating_platform
./levels/jrb/floating_platform/collision.s
./levels/jrb/floating_platform/geo.s
./levels/jrb/floating_platform/model.s
./levels/jrb/header.s
./levels/jrb/script.s
./levels/jrb/level.yaml
./levels/jrb/areas
./levels/jrb/areas/1
./levels/jrb/areas/1/collision.s
./levels/jrb/areas/1/7
./levels/jrb/areas/1/7/model.s
./levels/jrb/areas/1/macro.s
./levels/jrb/areas/1/6
./levels/jrb/areas/1/6/model.s
./levels/jrb/areas/1/1
./levels/jrb/areas/1/1/model.s
./levels/jrb/areas/1/geo.s
./levels/jrb/areas/1/trajectory.s
./levels/jrb/areas/1/movtext.s
./levels/jrb/areas/1/4
./levels/jrb/areas/1/4/model.s
./levels/jrb/areas/1/3
./levels/jrb/areas/1/3/model.s
./levels/jrb/areas/1/2
./levels/jrb/areas/1/2/model.s
./levels/jrb/areas/1/5
./levels/jrb/areas/1/5/model.s
./levels/jrb/areas/2
./levels/jrb/areas/2/collision.s
./levels/jrb/areas/2/macro.s
./levels/jrb/areas/2/1
./levels/jrb/areas/2/1/model.s
./levels/jrb/areas/2/geo.s
./levels/jrb/areas/2/movtext.s
./levels/jrb/areas/2/3
./levels/jrb/areas/2/3/model.s
./levels/jrb/areas/2/2
./levels/jrb/areas/2/2/model.s
./levels/jrb/wooden_ship
./levels/jrb/wooden_ship/collision.s
./levels/jrb/wooden_ship/geo.s
./levels/jrb/wooden_ship/model.s
./levels/jrb/falling_pillar
./levels/jrb/falling_pillar/geo.s
./levels/jrb/falling_pillar/model.s
./levels/jrb/geo.s
./levels/jrb/sliding_box
./levels/jrb/sliding_box/collision.s
./levels/jrb/sliding_box/geo.s
./levels/jrb/sliding_box/model.s
./levels/jrb/rock
./levels/jrb/rock/collision.s
./levels/jrb/rock/geo.s
./levels/jrb/rock/model.s
./levels/jrb/unused_lid
./levels/jrb/unused_lid/collision.s
./levels/jrb/falling_pillar_base
./levels/jrb/falling_pillar_base/collision.s
./levels/jrb/falling_pillar_base/geo.s
./levels/jrb/falling_pillar_base/model.s
./levels/jrb/texture.s
./levels/jrb/leveldata.s
./levels/cotmc
./levels/cotmc/header.s
./levels/cotmc/script.s
./levels/cotmc/level.yaml
./levels/cotmc/areas
./levels/cotmc/areas/1
./levels/cotmc/areas/1/collision.s
./levels/cotmc/areas/1/macro.s
./levels/cotmc/areas/1/1
./levels/cotmc/areas/1/1/model.s
./levels/cotmc/areas/1/geo.s
./levels/cotmc/areas/1/3
./levels/cotmc/areas/1/3/model.s
./levels/cotmc/areas/1/2
./levels/cotmc/areas/1/2/model.s
./levels/cotmc/geo.s
./levels/cotmc/movtext.s
./levels/cotmc/texture.s
./levels/cotmc/leveldata.s
./levels/ssl
./levels/ssl/moving_pyramid_wall
./levels/ssl/moving_pyramid_wall/collision.s
./levels/ssl/moving_pyramid_wall/geo.s
./levels/ssl/moving_pyramid_wall/model.s
./levels/ssl/header.s
./levels/ssl/script.s
./levels/ssl/level.yaml
./levels/ssl/pyramid_elevator
./levels/ssl/pyramid_elevator/collision.s
./levels/ssl/pyramid_elevator/geo.s
./levels/ssl/pyramid_elevator/model.s
./levels/ssl/areas
./levels/ssl/areas/1
./levels/ssl/areas/1/collision.s
./levels/ssl/areas/1/macro.s
./levels/ssl/areas/1/1
./levels/ssl/areas/1/1/model.s
./levels/ssl/areas/1/geo.s
./levels/ssl/areas/1/movtext.s
./levels/ssl/areas/1/model.s
./levels/ssl/areas/1/4
./levels/ssl/areas/1/4/model.s
./levels/ssl/areas/1/3
./levels/ssl/areas/1/3/model.s
./levels/ssl/areas/1/2
./levels/ssl/areas/1/2/model.s
./levels/ssl/areas/1/5
./levels/ssl/areas/1/5/geo.s
./levels/ssl/areas/3
./levels/ssl/areas/3/collision.s
./levels/ssl/areas/3/macro.s
./levels/ssl/areas/3/1
./levels/ssl/areas/3/1/model.s
./levels/ssl/areas/3/geo.s
./levels/ssl/areas/3/2
./levels/ssl/areas/3/2/model.s
./levels/ssl/areas/2
./levels/ssl/areas/2/collision.s
./levels/ssl/areas/2/macro.s
./levels/ssl/areas/2/1
./levels/ssl/areas/2/1/model.s
./levels/ssl/areas/2/geo.s
./levels/ssl/areas/2/movtext.s
./levels/ssl/areas/2/4
./levels/ssl/areas/2/4/geo.s
./levels/ssl/areas/2/4/model.s
./levels/ssl/areas/2/3
./levels/ssl/areas/2/3/model.s
./levels/ssl/areas/2/2
./levels/ssl/areas/2/2/model.s
./levels/ssl/pyramid_top
./levels/ssl/pyramid_top/collision.s
./levels/ssl/pyramid_top/geo.s
./levels/ssl/pyramid_top/model.s
./levels/ssl/geo.s
./levels/ssl/grindel
./levels/ssl/grindel/collision.s
./levels/ssl/grindel/geo.s
./levels/ssl/grindel/model.s
./levels/ssl/texture.s
./levels/ssl/leveldata.s
./levels/ssl/spindel
./levels/ssl/spindel/collision.s
./levels/ssl/spindel/geo.s
./levels/ssl/spindel/model.s
./levels/ssl/tox_box
./levels/ssl/tox_box/collision.s
./levels/ssl/tox_box/geo.s
./levels/ssl/tox_box/model.s
./levels/ssl/eyerok_col
./levels/ssl/eyerok_col/collision.s
./levels/ssl/eyerok_col/geo.s
./levels/ssl/eyerok_col/model.s
./levels/intro
./levels/intro/header.s
./levels/intro/script.s
./levels/intro/geo.s
./levels/intro/leveldata.s
./levels/lll
./levels/lll/tilting_square_platform
./levels/lll/tilting_square_platform/collision.s
./levels/lll/tilting_square_platform/geo.s
./levels/lll/tilting_square_platform/model.s
./levels/lll/drawbridge_part
./levels/lll/drawbridge_part/collision.s
./levels/lll/drawbridge_part/geo.s
./levels/lll/drawbridge_part/model.s
./levels/lll/collapsing_wooden_platform
./levels/lll/collapsing_wooden_platform/collision.s
./levels/lll/collapsing_wooden_platform/geo.s
./levels/lll/collapsing_wooden_platform/model.s
./levels/lll/wooden_float_small
./levels/lll/wooden_float_small/collision.s
./levels/lll/wooden_float_small/geo.s
./levels/lll/wooden_float_small/model.s
./levels/lll/header.s
./levels/lll/script.s
./levels/lll/volcano_falling_trap
./levels/lll/volcano_falling_trap/collision.s
./levels/lll/volcano_falling_trap/geo.s
./levels/lll/volcano_falling_trap/model.s
./levels/lll/level.yaml
./levels/lll/sinking_rock_block
./levels/lll/sinking_rock_block/collision.s
./levels/lll/sinking_rock_block/geo.s
./levels/lll/sinking_rock_block/model.s
./levels/lll/areas
./levels/lll/areas/1
./levels/lll/areas/1/light.s
./levels/lll/areas/1/collision.s
./levels/lll/areas/1/9
./levels/lll/areas/1/9/geo.s
./levels/lll/areas/1/9/model.s
./levels/lll/areas/1/11
./levels/lll/areas/1/11/geo.s
./levels/lll/areas/1/11/model.s
./levels/lll/areas/1/7
./levels/lll/areas/1/7/geo.s
./levels/lll/areas/1/7/model.s
./levels/lll/areas/1/macro.s
./levels/lll/areas/1/6
./levels/lll/areas/1/6/geo.s
./levels/lll/areas/1/6/model.s
./levels/lll/areas/1/1
./levels/lll/areas/1/1/model.s
./levels/lll/areas/1/10
./levels/lll/areas/1/10/collision.s
./levels/lll/areas/1/10/geo.s
./levels/lll/areas/1/10/model.s
./levels/lll/areas/1/8
./levels/lll/areas/1/8/geo.s
./levels/lll/areas/1/8/model.s
./levels/lll/areas/1/geo.s
./levels/lll/areas/1/4
./levels/lll/areas/1/4/geo.s
./levels/lll/areas/1/4/model.s
./levels/lll/areas/1/15
./levels/lll/areas/1/15/geo.s
./levels/lll/areas/1/15/model.s
./levels/lll/areas/1/3
./levels/lll/areas/1/3/model.s
./levels/lll/areas/1/12
./levels/lll/areas/1/12/geo.s
./levels/lll/areas/1/12/model.s
./levels/lll/areas/1/2
./levels/lll/areas/1/2/model.s
./levels/lll/areas/1/13
./levels/lll/areas/1/13/geo.s
./levels/lll/areas/1/13/model.s
./levels/lll/areas/1/5
./levels/lll/areas/1/5/geo.s
./levels/lll/areas/1/5/model.s
./levels/lll/areas/1/14
./levels/lll/areas/1/14/geo.s
./levels/lll/areas/1/14/model.s
./levels/lll/areas/2
./levels/lll/areas/2/collision.s
./levels/lll/areas/2/macro.s
./levels/lll/areas/2/1
./levels/lll/areas/2/1/model.s
./levels/lll/areas/2/geo.s
./levels/lll/areas/2/trajectory.s
./levels/lll/areas/2/movtext.s
./levels/lll/areas/2/4
./levels/lll/areas/2/4/model.s
./levels/lll/areas/2/3
./levels/lll/areas/2/3/model.s
./levels/lll/areas/2/2
./levels/lll/areas/2/2/model.s
./levels/lll/areas/2/5
./levels/lll/areas/2/5/model.s
./levels/lll/wooden_float_large
./levels/lll/wooden_float_large/geo.s
./levels/lll/wooden_float_large/model.s
./levels/lll/rolling_log
./levels/lll/rolling_log/collision.s
./levels/lll/rolling_log/geo.s
./levels/lll/rolling_log/model.s
./levels/lll/rotating_hexagonal_ring
./levels/lll/rotating_hexagonal_ring/collision.s
./levels/lll/rotating_hexagonal_ring/geo.s
./levels/lll/rotating_hexagonal_ring/model.s
./levels/lll/sinking_rectangular_platform
./levels/lll/sinking_rectangular_platform/collision.s
./levels/lll/sinking_rectangular_platform/geo.s
./levels/lll/sinking_rectangular_platform/model.s
./levels/lll/geo.s
./levels/lll/sinking_square_platform
./levels/lll/sinking_square_platform/collision.s
./levels/lll/sinking_square_platform/geo.s
./levels/lll/sinking_square_platform/model.s
./levels/lll/long_wooden_bridge
./levels/lll/long_wooden_bridge/geo.s
./levels/lll/long_wooden_bridge/model.s
./levels/lll/rotating_block_fire_bars
./levels/lll/rotating_block_fire_bars/collision.s
./levels/lll/rotating_block_fire_bars/geo.s
./levels/lll/rotating_block_fire_bars/model.s
./levels/lll/texture.s
./levels/lll/leveldata.s
./levels/lll/puzzle_piece
./levels/lll/puzzle_piece/collision.s
./levels/lll/puzzle_piece/geo.s
./levels/lll/puzzle_piece/model.s
./levels/lll/moving_octagonal_mesh_platform
./levels/lll/moving_octagonal_mesh_platform/collision.s
./levels/lll/moving_octagonal_mesh_platform/geo.s
./levels/lll/moving_octagonal_mesh_platform/model.s
./levels/ttm
./levels/ttm/blue_smiley
./levels/ttm/blue_smiley/geo.s
./levels/ttm/blue_smiley/model.s
./levels/ttm/header.s
./levels/ttm/script.s
./levels/ttm/level.yaml
./levels/ttm/areas
./levels/ttm/areas/1
./levels/ttm/areas/1/collision.s
./levels/ttm/areas/1/painting.s
./levels/ttm/areas/1/20
./levels/ttm/areas/1/20/geo.s
./levels/ttm/areas/1/20/model.s
./levels/ttm/areas/1/18
./levels/ttm/areas/1/18/1.s
./levels/ttm/areas/1/18/2.s
./levels/ttm/areas/1/18/geo.s
./levels/ttm/areas/1/9
./levels/ttm/areas/1/9/geo.s
./levels/ttm/areas/1/9/model.s
./levels/ttm/areas/1/11
./levels/ttm/areas/1/11/geo.s
./levels/ttm/areas/1/11/model.s
./levels/ttm/areas/1/7
./levels/ttm/areas/1/7/geo.s
./levels/ttm/areas/1/7/model.s
./levels/ttm/areas/1/16
./levels/ttm/areas/1/16/1.s
./levels/ttm/areas/1/16/2.s
./levels/ttm/areas/1/16/geo.s
./levels/ttm/areas/1/macro.s
./levels/ttm/areas/1/6
./levels/ttm/areas/1/6/1.s
./levels/ttm/areas/1/6/2.s
./levels/ttm/areas/1/6/geo.s
./levels/ttm/areas/1/17
./levels/ttm/areas/1/17/1.s
./levels/ttm/areas/1/17/2.s
./levels/ttm/areas/1/17/geo.s
./levels/ttm/areas/1/1
./levels/ttm/areas/1/1/model.s
./levels/ttm/areas/1/10
./levels/ttm/areas/1/10/geo.s
./levels/ttm/areas/1/10/model.s
./levels/ttm/areas/1/19
./levels/ttm/areas/1/19/geo.s
./levels/ttm/areas/1/19/model.s
./levels/ttm/areas/1/8
./levels/ttm/areas/1/8/geo.s
./levels/ttm/areas/1/8/model.s
./levels/ttm/areas/1/21
./levels/ttm/areas/1/21/1.s
./levels/ttm/areas/1/21/2.s
./levels/ttm/areas/1/21/geo.s
./levels/ttm/areas/1/geo.s
./levels/ttm/areas/1/trajectory.s
./levels/ttm/areas/1/movtext.s
./levels/ttm/areas/1/4
./levels/ttm/areas/1/4/1.s
./levels/ttm/areas/1/4/2.s
./levels/ttm/areas/1/4/geo.s
./levels/ttm/areas/1/15
./levels/ttm/areas/1/15/geo.s
./levels/ttm/areas/1/15/model.s
./levels/ttm/areas/1/3
./levels/ttm/areas/1/3/1.s
./levels/ttm/areas/1/3/2.s
./levels/ttm/areas/1/3/geo.s
./levels/ttm/areas/1/12
./levels/ttm/areas/1/12/geo.s
./levels/ttm/areas/1/12/model.s
./levels/ttm/areas/1/2
./levels/ttm/areas/1/2/model.s
./levels/ttm/areas/1/13
./levels/ttm/areas/1/13/geo.s
./levels/ttm/areas/1/13/model.s
./levels/ttm/areas/1/5
./levels/ttm/areas/1/5/1.s
./levels/ttm/areas/1/5/2.s
./levels/ttm/areas/1/5/geo.s
./levels/ttm/areas/1/14
./levels/ttm/areas/1/14/geo.s
./levels/ttm/areas/1/14/model.s
./levels/ttm/areas/4
./levels/ttm/areas/4/collision.s
./levels/ttm/areas/4/macro.s
./levels/ttm/areas/4/1
./levels/ttm/areas/4/1/model.s
./levels/ttm/areas/4/geo.s
./levels/ttm/areas/4/2
./levels/ttm/areas/4/2/model.s
./levels/ttm/areas/3
./levels/ttm/areas/3/collision.s
./levels/ttm/areas/3/macro.s
./levels/ttm/areas/3/1
./levels/ttm/areas/3/1/model.s
./levels/ttm/areas/3/geo.s
./levels/ttm/areas/3/3
./levels/ttm/areas/3/3/model.s
./levels/ttm/areas/3/2
./levels/ttm/areas/3/2/model.s
./levels/ttm/areas/2
./levels/ttm/areas/2/collision.s
./levels/ttm/areas/2/macro.s
./levels/ttm/areas/2/1
./levels/ttm/areas/2/1/model.s
./levels/ttm/areas/2/geo.s
./levels/ttm/areas/2/2
./levels/ttm/areas/2/2/model.s
./levels/ttm/star_cage
./levels/ttm/star_cage/1.s
./levels/ttm/star_cage/collision.s
./levels/ttm/star_cage/2.s
./levels/ttm/star_cage/geo.s
./levels/ttm/moon_smiley
./levels/ttm/moon_smiley/geo.s
./levels/ttm/moon_smiley/model.s
./levels/ttm/rolling_log
./levels/ttm/rolling_log/collision.s
./levels/ttm/rolling_log/geo.s
./levels/ttm/rolling_log/model.s
./levels/ttm/star_smiley
./levels/ttm/star_smiley/geo.s
./levels/ttm/star_smiley/model.s
./levels/ttm/yellow_smiley
./levels/ttm/yellow_smiley/geo.s
./levels/ttm/yellow_smiley/model.s
./levels/ttm/geo.s
./levels/ttm/texture.s
./levels/ttm/leveldata.s
./levels/ttm/slide_exit_podium
./levels/ttm/slide_exit_podium/collision.s
./levels/ttm/slide_exit_podium/geo.s
./levels/ttm/slide_exit_podium/model.s
./levels/bob
./levels/bob/header.s
./levels/bob/script.s
./levels/bob/level.yaml
./levels/bob/areas
./levels/bob/areas/1
./levels/bob/areas/1/collision.s
./levels/bob/areas/1/macro.s
./levels/bob/areas/1/6
./levels/bob/areas/1/6/model.s
./levels/bob/areas/1/1
./levels/bob/areas/1/1/model.s
./levels/bob/areas/1/geo.s
./levels/bob/areas/1/trajectory.s
./levels/bob/areas/1/4
./levels/bob/areas/1/4/model.s
./levels/bob/areas/1/3
./levels/bob/areas/1/3/model.s
./levels/bob/areas/1/2
./levels/bob/areas/1/2/model.s
./levels/bob/areas/1/5
./levels/bob/areas/1/5/model.s
./levels/bob/geo.s
./levels/bob/chain_chomp_gate
./levels/bob/chain_chomp_gate/collision.s
./levels/bob/chain_chomp_gate/geo.s
./levels/bob/chain_chomp_gate/model.s
./levels/bob/seesaw_platform
./levels/bob/seesaw_platform/collision.s
./levels/bob/seesaw_platform/geo.s
./levels/bob/seesaw_platform/model.s
./levels/bob/grate_door
./levels/bob/grate_door/collision.s
./levels/bob/grate_door/geo.s
./levels/bob/grate_door/model.s
./levels/bob/texture.s
./levels/bob/leveldata.s
./levels/ttc
./levels/ttc/header.s
./levels/ttc/rotating_cube
./levels/ttc/rotating_cube/collision.s
./levels/ttc/rotating_cube/geo.s
./levels/ttc/rotating_cube/model.s
./levels/ttc/script.s
./levels/ttc/level.yaml
./levels/ttc/areas
./levels/ttc/areas/1
./levels/ttc/areas/1/collision.s
./levels/ttc/areas/1/macro.s
./levels/ttc/areas/1/1
./levels/ttc/areas/1/1/model.s
./levels/ttc/areas/1/geo.s
./levels/ttc/areas/1/movtext.s
./levels/ttc/areas/1/3
./levels/ttc/areas/1/3/model.s
./levels/ttc/areas/1/2
./levels/ttc/areas/1/2/model.s
./levels/ttc/pit_block
./levels/ttc/pit_block/collision.s
./levels/ttc/pit_block/geo.s
./levels/ttc/pit_block/model.s
./levels/ttc/pendulum
./levels/ttc/pendulum/collision.s
./levels/ttc/pendulum/geo.s
./levels/ttc/pendulum/model.s
./levels/ttc/pit_block_2
./levels/ttc/pit_block_2/collision.s
./levels/ttc/pit_block_2/geo.s
./levels/ttc/pit_block_2/model.s
./levels/ttc/rotating_triangle
./levels/ttc/rotating_triangle/collision.s
./levels/ttc/rotating_triangle/geo.s
./levels/ttc/rotating_triangle/model.s
./levels/ttc/spinner
./levels/ttc/spinner/collision.s
./levels/ttc/spinner/geo.s
./levels/ttc/spinner/model.s
./levels/ttc/rotating_hexagon
./levels/ttc/rotating_hexagon/collision.s
./levels/ttc/rotating_hexagon/geo.s
./levels/ttc/rotating_hexagon/model.s
./levels/ttc/geo.s
./levels/ttc/push_block
./levels/ttc/push_block/collision.s
./levels/ttc/push_block/geo.s
./levels/ttc/push_block/model.s
./levels/ttc/large_gear
./levels/ttc/large_gear/collision.s
./levels/ttc/large_gear/geo.s
./levels/ttc/large_gear/model.s
./levels/ttc/small_treadmill
./levels/ttc/small_treadmill/collision.s
./levels/ttc/small_treadmill/geo.s
./levels/ttc/small_treadmill/model.s
./levels/ttc/elevator_platform
./levels/ttc/elevator_platform/collision.s
./levels/ttc/elevator_platform/geo.s
./levels/ttc/elevator_platform/model.s
./levels/ttc/small_gear
./levels/ttc/small_gear/collision.s
./levels/ttc/small_gear/geo.s
./levels/ttc/small_gear/model.s
./levels/ttc/texture.s
./levels/ttc/leveldata.s
./levels/ttc/large_treadmill
./levels/ttc/large_treadmill/collision.s
./levels/ttc/large_treadmill/geo.s
./levels/ttc/large_treadmill/model.s
./levels/ttc/clock_hand
./levels/ttc/clock_hand/collision.s
./levels/ttc/clock_hand/geo.s
./levels/ttc/clock_hand/model.s
./levels/ttc/rotating_prism
./levels/ttc/rotating_prism/collision.s
./levels/ttc/rotating_prism/geo.s
./levels/ttc/rotating_prism/model.s
./levels/ddd
./levels/ddd/header.s
./levels/ddd/script.s
./levels/ddd/level.yaml
./levels/ddd/areas
./levels/ddd/areas/1
./levels/ddd/areas/1/collision.s
./levels/ddd/areas/1/macro.s
./levels/ddd/areas/1/1
./levels/ddd/areas/1/1/model.s
./levels/ddd/areas/1/geo.s
./levels/ddd/areas/1/movtext.s
./levels/ddd/areas/1/4
./levels/ddd/areas/1/4/model.s
./levels/ddd/areas/1/3
./levels/ddd/areas/1/3/model.s
./levels/ddd/areas/1/2
./levels/ddd/areas/1/2/model.s
./levels/ddd/areas/2
./levels/ddd/areas/2/collision.s
./levels/ddd/areas/2/macro.s
./levels/ddd/areas/2/6
./levels/ddd/areas/2/6/model.s
./levels/ddd/areas/2/1
./levels/ddd/areas/2/1/model.s
./levels/ddd/areas/2/geo.s
./levels/ddd/areas/2/movtext.s
./levels/ddd/areas/2/4
./levels/ddd/areas/2/4/model.s
./levels/ddd/areas/2/3
./levels/ddd/areas/2/3/model.s
./levels/ddd/areas/2/2
./levels/ddd/areas/2/2/model.s
./levels/ddd/areas/2/5
./levels/ddd/areas/2/5/model.s
./levels/ddd/sub_door
./levels/ddd/sub_door/1.s
./levels/ddd/sub_door/collision.s
./levels/ddd/sub_door/2.s
./levels/ddd/sub_door/geo.s
./levels/ddd/sub_door/3.s
./levels/ddd/submarine
./levels/ddd/submarine/1.s
./levels/ddd/submarine/collision.s
./levels/ddd/submarine/2.s
./levels/ddd/submarine/geo.s
./levels/ddd/geo.s
./levels/ddd/texture.s
./levels/ddd/leveldata.s
./levels/ddd/pole
./levels/ddd/pole/geo.s
./levels/ddd/pole/model.s
./levels/rr
./levels/rr/donut_block
./levels/rr/donut_block/1.s
./levels/rr/donut_block/collision.s
./levels/rr/donut_block/2.s
./levels/rr/donut_block/geo.s
./levels/rr/header.s
./levels/rr/tricky_triangles_3
./levels/rr/tricky_triangles_3/collision.s
./levels/rr/tricky_triangles_3/geo.s
./levels/rr/tricky_triangles_3/model.s
./levels/rr/tricky_triangles_4
./levels/rr/tricky_triangles_4/collision.s
./levels/rr/tricky_triangles_4/geo.s
./levels/rr/tricky_triangles_4/model.s
./levels/rr/script.s
./levels/rr/level.yaml
./levels/rr/tricky_triangles_5
./levels/rr/tricky_triangles_5/collision.s
./levels/rr/tricky_triangles_5/geo.s
./levels/rr/tricky_triangles_5/model.s
./levels/rr/tricky_triangles_2
./levels/rr/tricky_triangles_2/collision.s
./levels/rr/tricky_triangles_2/geo.s
./levels/rr/tricky_triangles_2/model.s
./levels/rr/areas
./levels/rr/areas/1
./levels/rr/areas/1/collision.s
./levels/rr/areas/1/20
./levels/rr/areas/1/20/geo.s
./levels/rr/areas/1/20/model.s
./levels/rr/areas/1/18
./levels/rr/areas/1/18/geo.s
./levels/rr/areas/1/18/model.s
./levels/rr/areas/1/9
./levels/rr/areas/1/9/geo.s
./levels/rr/areas/1/9/model.s
./levels/rr/areas/1/11
./levels/rr/areas/1/11/1.s
./levels/rr/areas/1/11/2.s
./levels/rr/areas/1/11/geo.s
./levels/rr/areas/1/7
./levels/rr/areas/1/7/geo.s
./levels/rr/areas/1/7/model.s
./levels/rr/areas/1/16
./levels/rr/areas/1/16/geo.s
./levels/rr/areas/1/16/model.s
./levels/rr/areas/1/macro.s
./levels/rr/areas/1/6
./levels/rr/areas/1/6/geo.s
./levels/rr/areas/1/6/model.s
./levels/rr/areas/1/17
./levels/rr/areas/1/17/geo.s
./levels/rr/areas/1/17/model.s
./levels/rr/areas/1/1
./levels/rr/areas/1/1/model.s
./levels/rr/areas/1/10
./levels/rr/areas/1/10/geo.s
./levels/rr/areas/1/10/model.s
./levels/rr/areas/1/19
./levels/rr/areas/1/19/geo.s
./levels/rr/areas/1/19/model.s
./levels/rr/areas/1/8
./levels/rr/areas/1/8/geo.s
./levels/rr/areas/1/8/model.s
./levels/rr/areas/1/21
./levels/rr/areas/1/21/geo.s
./levels/rr/areas/1/21/model.s
./levels/rr/areas/1/geo.s
./levels/rr/areas/1/trajectory.s
./levels/rr/areas/1/4
./levels/rr/areas/1/4/geo.s
./levels/rr/areas/1/4/model.s
./levels/rr/areas/1/15
./levels/rr/areas/1/15/geo.s
./levels/rr/areas/1/15/model.s
./levels/rr/areas/1/3
./levels/rr/areas/1/3/geo.s
./levels/rr/areas/1/3/model.s
./levels/rr/areas/1/12
./levels/rr/areas/1/12/geo.s
./levels/rr/areas/1/12/model.s
./levels/rr/areas/1/2
./levels/rr/areas/1/2/geo.s
./levels/rr/areas/1/2/model.s
./levels/rr/areas/1/13
./levels/rr/areas/1/13/geo.s
./levels/rr/areas/1/13/model.s
./levels/rr/areas/1/5
./levels/rr/areas/1/5/geo.s
./levels/rr/areas/1/5/model.s
./levels/rr/areas/1/14
./levels/rr/areas/1/14/geo.s
./levels/rr/areas/1/14/model.s
./levels/rr/rotating_bridge_platform
./levels/rr/rotating_bridge_platform/collision.s
./levels/rr/rotating_bridge_platform/geo.s
./levels/rr/rotating_bridge_platform/model.s
./levels/rr/sliding_platform
./levels/rr/sliding_platform/collision.s
./levels/rr/sliding_platform/geo.s
./levels/rr/sliding_platform/model.s
./levels/rr/flying_carpet
./levels/rr/flying_carpet/collision.s
./levels/rr/flying_carpet/geo.s
./levels/rr/flying_carpet/model.s
./levels/rr/swinging_platform
./levels/rr/swinging_platform/collision.s
./levels/rr/swinging_platform/geo.s
./levels/rr/swinging_platform/model.s
./levels/rr/geo.s
./levels/rr/pyramid_platform
./levels/rr/pyramid_platform/collision.s
./levels/rr/pyramid_platform/geo.s
./levels/rr/pyramid_platform/model.s
./levels/rr/elevator_platform
./levels/rr/elevator_platform/collision.s
./levels/rr/elevator_platform/geo.s
./levels/rr/elevator_platform/model.s
./levels/rr/tricky_triangles_1
./levels/rr/tricky_triangles_1/collision.s
./levels/rr/tricky_triangles_1/geo.s
./levels/rr/tricky_triangles_1/model.s
./levels/rr/seesaw_platform
./levels/rr/seesaw_platform/collision.s
./levels/rr/seesaw_platform/geo.s
./levels/rr/seesaw_platform/model.s
./levels/rr/octagonal_platform
./levels/rr/octagonal_platform/collision.s
./levels/rr/octagonal_platform/geo.s
./levels/rr/octagonal_platform/model.s
./levels/rr/l_platform
./levels/rr/l_platform/collision.s
./levels/rr/l_platform/geo.s
./levels/rr/l_platform/model.s
./levels/rr/texture.s
./levels/rr/leveldata.s
./levels/rr/cruiser_wing
./levels/rr/cruiser_wing/geo.s
./levels/rr/cruiser_wing/model.s
./levels/castle_grounds
./levels/castle_grounds/header.s
./levels/castle_grounds/script.s
./levels/castle_grounds/level.yaml
./levels/castle_grounds/areas
./levels/castle_grounds/areas/1
./levels/castle_grounds/areas/1/collision.s
./levels/castle_grounds/areas/1/9
./levels/castle_grounds/areas/1/9/model.s
./levels/castle_grounds/areas/1/11
./levels/castle_grounds/areas/1/11/geo.s
./levels/castle_grounds/areas/1/11/anim.s
./levels/castle_grounds/areas/1/11/model.s
./levels/castle_grounds/areas/1/7
./levels/castle_grounds/areas/1/7/collision.s
./levels/castle_grounds/areas/1/7/geo.s
./levels/castle_grounds/areas/1/7/model.s
./levels/castle_grounds/areas/1/macro.s
./levels/castle_grounds/areas/1/6
./levels/castle_grounds/areas/1/6/model.s
./levels/castle_grounds/areas/1/1
./levels/castle_grounds/areas/1/1/model.s
./levels/castle_grounds/areas/1/10
./levels/castle_grounds/areas/1/10/model.s
./levels/castle_grounds/areas/1/8
./levels/castle_grounds/areas/1/8/collision.s
./levels/castle_grounds/areas/1/8/geo.s
./levels/castle_grounds/areas/1/8/model.s
./levels/castle_grounds/areas/1/geo.s
./levels/castle_grounds/areas/1/movtext.s
./levels/castle_grounds/areas/1/4
./levels/castle_grounds/areas/1/4/model.s
./levels/castle_grounds/areas/1/3
./levels/castle_grounds/areas/1/3/geo.s
./levels/castle_grounds/areas/1/3/model.s
./levels/castle_grounds/areas/1/12
./levels/castle_grounds/areas/1/12/model.s
./levels/castle_grounds/areas/1/2
./levels/castle_grounds/areas/1/2/model.s
./levels/castle_grounds/areas/1/13
./levels/castle_grounds/areas/1/13/model.s
./levels/castle_grounds/areas/1/5
./levels/castle_grounds/areas/1/5/model.s
./levels/castle_grounds/geo.s
./levels/castle_grounds/texture.s
./levels/castle_grounds/leveldata.s
./levels/bowser_1
./levels/bowser_1/header.s
./levels/bowser_1/script.s
./levels/bowser_1/level.yaml
./levels/bowser_1/areas
./levels/bowser_1/areas/1
./levels/bowser_1/areas/1/collision.s
./levels/bowser_1/areas/1/1
./levels/bowser_1/areas/1/1/model.s
./levels/bowser_1/areas/1/geo.s
./levels/bowser_1/geo.s
./levels/bowser_1/texture.s
./levels/bowser_1/leveldata.s
./levels/ccm
./levels/ccm/header.s
./levels/ccm/script.s
./levels/ccm/level.yaml
./levels/ccm/areas
./levels/ccm/areas/1
./levels/ccm/areas/1/collision.s
./levels/ccm/areas/1/9
./levels/ccm/areas/1/9/geo.s
./levels/ccm/areas/1/9/model.s
./levels/ccm/areas/1/7
./levels/ccm/areas/1/7/1.s
./levels/ccm/areas/1/7/2.s
./levels/ccm/areas/1/7/geo.s
./levels/ccm/areas/1/7/3.s
./levels/ccm/areas/1/macro.s
./levels/ccm/areas/1/6
./levels/ccm/areas/1/6/1.s
./levels/ccm/areas/1/6/2.s
./levels/ccm/areas/1/6/geo.s
./levels/ccm/areas/1/1
./levels/ccm/areas/1/1/model.s
./levels/ccm/areas/1/10
./levels/ccm/areas/1/10/1.s
./levels/ccm/areas/1/10/2.s
./levels/ccm/areas/1/10/geo.s
./levels/ccm/areas/1/10/3.s
./levels/ccm/areas/1/8
./levels/ccm/areas/1/8/geo.s
./levels/ccm/areas/1/8/model.s
./levels/ccm/areas/1/geo.s
./levels/ccm/areas/1/trajectory.s
./levels/ccm/areas/1/movtext.s
./levels/ccm/areas/1/4
./levels/ccm/areas/1/4/model.s
./levels/ccm/areas/1/3
./levels/ccm/areas/1/3/model.s
./levels/ccm/areas/1/2
./levels/ccm/areas/1/2/model.s
./levels/ccm/areas/1/5
./levels/ccm/areas/1/5/model.s
./levels/ccm/areas/2
./levels/ccm/areas/2/collision.s
./levels/ccm/areas/2/7
./levels/ccm/areas/2/7/model.s
./levels/ccm/areas/2/macro.s
./levels/ccm/areas/2/6
./levels/ccm/areas/2/6/model.s
./levels/ccm/areas/2/1
./levels/ccm/areas/2/1/model.s
./levels/ccm/areas/2/geo.s
./levels/ccm/areas/2/trajectory.s
./levels/ccm/areas/2/4
./levels/ccm/areas/2/4/model.s
./levels/ccm/areas/2/3
./levels/ccm/areas/2/3/model.s
./levels/ccm/areas/2/2
./levels/ccm/areas/2/2/model.s
./levels/ccm/areas/2/5
./levels/ccm/areas/2/5/model.s
./levels/ccm/ropeway_lift
./levels/ccm/ropeway_lift/1.s
./levels/ccm/ropeway_lift/collision.s
./levels/ccm/ropeway_lift/2.s
./levels/ccm/ropeway_lift/geo.s
./levels/ccm/geo.s
./levels/ccm/snowman_head
./levels/ccm/snowman_head/1.s
./levels/ccm/snowman_head/2.s
./levels/ccm/snowman_head/geo.s
./levels/ccm/snowman_base
./levels/ccm/snowman_base/geo.s
./levels/ccm/snowman_base/model.s
./levels/ccm/texture.s
./levels/ccm/leveldata.s
./levels/entry.s
./levels/vcutm
./levels/vcutm/header.s
./levels/vcutm/script.s
./levels/vcutm/level.yaml
./levels/vcutm/seesaw
./levels/vcutm/seesaw/collision.s
./levels/vcutm/seesaw/geo.s
./levels/vcutm/seesaw/model.s
./levels/vcutm/areas
./levels/vcutm/areas/1
./levels/vcutm/areas/1/collision.s
./levels/vcutm/areas/1/macro.s
./levels/vcutm/areas/1/1
./levels/vcutm/areas/1/1/model.s
./levels/vcutm/areas/1/geo.s
./levels/vcutm/areas/1/4
./levels/vcutm/areas/1/4/model.s
./levels/vcutm/areas/1/3
./levels/vcutm/areas/1/3/model.s
./levels/vcutm/areas/1/2
./levels/vcutm/areas/1/2/model.s
./levels/vcutm/geo.s
./levels/vcutm/texture.s
./levels/vcutm/leveldata.s
./levels/sa
./levels/sa/header.s
./levels/sa/script.s
./levels/sa/level.yaml
./levels/sa/areas
./levels/sa/areas/1
./levels/sa/areas/1/collision.s
./levels/sa/areas/1/macro.s
./levels/sa/areas/1/1
./levels/sa/areas/1/1/model.s
./levels/sa/areas/1/geo.s
./levels/sa/areas/1/2
./levels/sa/areas/1/2/model.s
./levels/sa/geo.s
./levels/sa/texture.s
./levels/sa/leveldata.s
./levels/scripts.s
./levels/bits
./levels/bits/header.s
./levels/bits/script.s
./levels/bits/level.yaml
./levels/bits/areas
./levels/bits/areas/1
./levels/bits/areas/1/32
./levels/bits/areas/1/32/collision.s
./levels/bits/areas/1/32/geo.s
./levels/bits/areas/1/32/model.s
./levels/bits/areas/1/collision.s
./levels/bits/areas/1/20
./levels/bits/areas/1/20/collision.s
./levels/bits/areas/1/20/geo.s
./levels/bits/areas/1/20/model.s
./levels/bits/areas/1/18
./levels/bits/areas/1/18/geo.s
./levels/bits/areas/1/18/model.s
./levels/bits/areas/1/27
./levels/bits/areas/1/27/collision.s
./levels/bits/areas/1/27/geo.s
./levels/bits/areas/1/27/model.s
./levels/bits/areas/1/9
./levels/bits/areas/1/9/geo.s
./levels/bits/areas/1/9/model.s
./levels/bits/areas/1/11
./levels/bits/areas/1/11/geo.s
./levels/bits/areas/1/11/model.s
./levels/bits/areas/1/7
./levels/bits/areas/1/7/geo.s
./levels/bits/areas/1/7/model.s
./levels/bits/areas/1/29
./levels/bits/areas/1/29/collision.s
./levels/bits/areas/1/29/geo.s
./levels/bits/areas/1/29/model.s
./levels/bits/areas/1/16
./levels/bits/areas/1/16/geo.s
./levels/bits/areas/1/16/model.s
./levels/bits/areas/1/macro.s
./levels/bits/areas/1/6
./levels/bits/areas/1/6/geo.s
./levels/bits/areas/1/6/model.s
./levels/bits/areas/1/28
./levels/bits/areas/1/28/collision.s
./levels/bits/areas/1/28/geo.s
./levels/bits/areas/1/28/model.s
./levels/bits/areas/1/17
./levels/bits/areas/1/17/geo.s
./levels/bits/areas/1/17/model.s
./levels/bits/areas/1/1
./levels/bits/areas/1/1/model.s
./levels/bits/areas/1/10
./levels/bits/areas/1/10/geo.s
./levels/bits/areas/1/10/model.s
./levels/bits/areas/1/19
./levels/bits/areas/1/19/geo.s
./levels/bits/areas/1/19/model.s
./levels/bits/areas/1/26
./levels/bits/areas/1/26/collision.s
./levels/bits/areas/1/26/geo.s
./levels/bits/areas/1/26/model.s
./levels/bits/areas/1/8
./levels/bits/areas/1/8/geo.s
./levels/bits/areas/1/8/model.s
./levels/bits/areas/1/21
./levels/bits/areas/1/21/collision.s
./levels/bits/areas/1/21/geo.s
./levels/bits/areas/1/21/model.s
./levels/bits/areas/1/geo.s
./levels/bits/areas/1/31
./levels/bits/areas/1/31/collision.s
./levels/bits/areas/1/31/geo.s
./levels/bits/areas/1/31/model.s
./levels/bits/areas/1/30
./levels/bits/areas/1/30/collision.s
./levels/bits/areas/1/30/geo.s
./levels/bits/areas/1/30/model.s
./levels/bits/areas/1/24
./levels/bits/areas/1/24/collision.s
./levels/bits/areas/1/24/geo.s
./levels/bits/areas/1/24/model.s
./levels/bits/areas/1/23
./levels/bits/areas/1/23/collision.s
./levels/bits/areas/1/23/geo.s
./levels/bits/areas/1/23/model.s
./levels/bits/areas/1/4
./levels/bits/areas/1/4/geo.s
./levels/bits/areas/1/4/model.s
./levels/bits/areas/1/15
./levels/bits/areas/1/15/geo.s
./levels/bits/areas/1/15/model.s
./levels/bits/areas/1/3
./levels/bits/areas/1/3/geo.s
./levels/bits/areas/1/3/model.s
./levels/bits/areas/1/12
./levels/bits/areas/1/12/geo.s
./levels/bits/areas/1/12/model.s
./levels/bits/areas/1/2
./levels/bits/areas/1/2/geo.s
./levels/bits/areas/1/2/model.s
./levels/bits/areas/1/13
./levels/bits/areas/1/13/geo.s
./levels/bits/areas/1/13/model.s
./levels/bits/areas/1/5
./levels/bits/areas/1/5/geo.s
./levels/bits/areas/1/5/model.s
./levels/bits/areas/1/14
./levels/bits/areas/1/14/geo.s
./levels/bits/areas/1/14/model.s
./levels/bits/areas/1/22
./levels/bits/areas/1/22/collision.s
./levels/bits/areas/1/22/geo.s
./levels/bits/areas/1/22/model.s
./levels/bits/areas/1/25
./levels/bits/areas/1/25/collision.s
./levels/bits/areas/1/25/geo.s
./levels/bits/areas/1/25/model.s
./levels/bits/geo.s
./levels/bits/texture.s
./levels/bits/leveldata.s
./levels/ending
./levels/ending/header.s
./levels/ending/script.s
./levels/ending/geo.s
./levels/ending/leveldata.s
./levels/castle_courtyard
./levels/castle_courtyard/header.s
./levels/castle_courtyard/script.s
./levels/castle_courtyard/level.yaml
./levels/castle_courtyard/areas
./levels/castle_courtyard/areas/1
./levels/castle_courtyard/areas/1/collision.s
./levels/castle_courtyard/areas/1/macro.s
./levels/castle_courtyard/areas/1/1
./levels/castle_courtyard/areas/1/1/model.s
./levels/castle_courtyard/areas/1/spire
./levels/castle_courtyard/areas/1/spire/geo.s
./levels/castle_courtyard/areas/1/spire/model.s
./levels/castle_courtyard/areas/1/geo.s
./levels/castle_courtyard/areas/1/movtext.s
./levels/castle_courtyard/areas/1/3
./levels/castle_courtyard/areas/1/3/model.s
./levels/castle_courtyard/areas/1/2
./levels/castle_courtyard/areas/1/2/model.s
./levels/castle_courtyard/geo.s
./levels/castle_courtyard/texture.s
./levels/castle_courtyard/leveldata.s
./levels/menu
./levels/menu/header.s
./levels/menu/script.s
./levels/menu/geo.s
./levels/menu/leveldata.s
./levels/wdw
./levels/wdw/header.s
./levels/wdw/script.s
./levels/wdw/level.yaml
./levels/wdw/areas
./levels/wdw/areas/1
./levels/wdw/areas/1/collision.s
./levels/wdw/areas/1/macro.s
./levels/wdw/areas/1/1
./levels/wdw/areas/1/1/model.s
./levels/wdw/areas/1/geo.s
./levels/wdw/areas/1/movtext.s
./levels/wdw/areas/1/3
./levels/wdw/areas/1/3/model.s
./levels/wdw/areas/1/2
./levels/wdw/areas/1/2/model.s
./levels/wdw/areas/2
./levels/wdw/areas/2/collision.s
./levels/wdw/areas/2/macro.s
./levels/wdw/areas/2/1
./levels/wdw/areas/2/1/model.s
./levels/wdw/areas/2/geo.s
./levels/wdw/areas/2/movtext.s
./levels/wdw/areas/2/2
./levels/wdw/areas/2/2/model.s
./levels/wdw/hidden_platform
./levels/wdw/hidden_platform/collision.s
./levels/wdw/hidden_platform/geo.s
./levels/wdw/hidden_platform/model.s
./levels/wdw/rotating_platform
./levels/wdw/rotating_platform/collision.s
./levels/wdw/rotating_platform/geo.s
./levels/wdw/rotating_platform/model.s
./levels/wdw/arrow_lift
./levels/wdw/arrow_lift/collision.s
./levels/wdw/arrow_lift/geo.s
./levels/wdw/arrow_lift/model.s
./levels/wdw/geo.s
./levels/wdw/rectangular_floating_platform
./levels/wdw/rectangular_floating_platform/collision.s
./levels/wdw/rectangular_floating_platform/geo.s
./levels/wdw/rectangular_floating_platform/model.s
./levels/wdw/square_floating_platform
./levels/wdw/square_floating_platform/collision.s
./levels/wdw/square_floating_platform/geo.s
./levels/wdw/square_floating_platform/model.s
./levels/wdw/water_level_diamond
./levels/wdw/water_level_diamond/collision.s
./levels/wdw/water_level_diamond/geo.s
./levels/wdw/water_level_diamond/model.s
./levels/wdw/texture.s
./levels/wdw/leveldata.s
./levels/wdw/double_arrows
./levels/wdw/double_arrows/model.s
./levels/wdw/express_elevator
./levels/wdw/express_elevator/collision.s
./levels/wdw/express_elevator/geo.s
./levels/wdw/express_elevator/model.s
./levels/bitfs
./levels/bitfs/tilting_square_platform
./levels/bitfs/tilting_square_platform/collision.s
./levels/bitfs/tilting_square_platform/geo.s
./levels/bitfs/tilting_square_platform/model.s
./levels/bitfs/moving_square_platform
./levels/bitfs/moving_square_platform/collision.s
./levels/bitfs/moving_square_platform/geo.s
./levels/bitfs/moving_square_platform/model.s
./levels/bitfs/tumbling_platform_far
./levels/bitfs/tumbling_platform_far/geo.s
./levels/bitfs/tumbling_platform_far/model.s
./levels/bitfs/header.s
./levels/bitfs/script.s
./levels/bitfs/level.yaml
./levels/bitfs/areas
./levels/bitfs/areas/1
./levels/bitfs/areas/1/collision.s
./levels/bitfs/areas/1/20
./levels/bitfs/areas/1/20/geo.s
./levels/bitfs/areas/1/20/model.s
./levels/bitfs/areas/1/18
./levels/bitfs/areas/1/18/geo.s
./levels/bitfs/areas/1/18/model.s
./levels/bitfs/areas/1/9
./levels/bitfs/areas/1/9/geo.s
./levels/bitfs/areas/1/9/model.s
./levels/bitfs/areas/1/11
./levels/bitfs/areas/1/11/geo.s
./levels/bitfs/areas/1/11/model.s
./levels/bitfs/areas/1/7
./levels/bitfs/areas/1/7/geo.s
./levels/bitfs/areas/1/7/model.s
./levels/bitfs/areas/1/16
./levels/bitfs/areas/1/16/geo.s
./levels/bitfs/areas/1/16/model.s
./levels/bitfs/areas/1/macro.s
./levels/bitfs/areas/1/6
./levels/bitfs/areas/1/6/geo.s
./levels/bitfs/areas/1/6/model.s
./levels/bitfs/areas/1/17
./levels/bitfs/areas/1/17/geo.s
./levels/bitfs/areas/1/17/model.s
./levels/bitfs/areas/1/1
./levels/bitfs/areas/1/1/model.s
./levels/bitfs/areas/1/10
./levels/bitfs/areas/1/10/geo.s
./levels/bitfs/areas/1/10/model.s
./levels/bitfs/areas/1/19
./levels/bitfs/areas/1/19/geo.s
./levels/bitfs/areas/1/19/model.s
./levels/bitfs/areas/1/8
./levels/bitfs/areas/1/8/geo.s
./levels/bitfs/areas/1/8/model.s
./levels/bitfs/areas/1/geo.s
./levels/bitfs/areas/1/trajectory.s
./levels/bitfs/areas/1/movtext.s
./levels/bitfs/areas/1/4
./levels/bitfs/areas/1/4/geo.s
./levels/bitfs/areas/1/4/model.s
./levels/bitfs/areas/1/15
./levels/bitfs/areas/1/15/geo.s
./levels/bitfs/areas/1/15/model.s
./levels/bitfs/areas/1/3
./levels/bitfs/areas/1/3/geo.s
./levels/bitfs/areas/1/3/model.s
./levels/bitfs/areas/1/12
./levels/bitfs/areas/1/12/geo.s
./levels/bitfs/areas/1/12/model.s
./levels/bitfs/areas/1/2
./levels/bitfs/areas/1/2/geo.s
./levels/bitfs/areas/1/2/model.s
./levels/bitfs/areas/1/13
./levels/bitfs/areas/1/13/geo.s
./levels/bitfs/areas/1/13/model.s
./levels/bitfs/areas/1/5
./levels/bitfs/areas/1/5/geo.s
./levels/bitfs/areas/1/5/model.s
./levels/bitfs/areas/1/14
./levels/bitfs/areas/1/14/geo.s
./levels/bitfs/areas/1/14/model.s
./levels/bitfs/stretching_platform
./levels/bitfs/stretching_platform/1.s
./levels/bitfs/stretching_platform/collision.s
./levels/bitfs/stretching_platform/2.s
./levels/bitfs/stretching_platform/geo.s
./levels/bitfs/tumbling_platform_near
./levels/bitfs/tumbling_platform_near/collision.s
./levels/bitfs/tumbling_platform_near/geo.s
./levels/bitfs/tumbling_platform_near/model.s
./levels/bitfs/sliding_platform
./levels/bitfs/sliding_platform/collision.s
./levels/bitfs/sliding_platform/geo.s
./levels/bitfs/sliding_platform/model.s
./levels/bitfs/sinking_cage_pole
./levels/bitfs/sinking_cage_pole/geo.s
./levels/bitfs/sinking_cage_pole/model.s
./levels/bitfs/geo.s
./levels/bitfs/sinking_cage_platform
./levels/bitfs/sinking_cage_platform/collision.s
./levels/bitfs/sinking_cage_platform/geo.s
./levels/bitfs/sinking_cage_platform/model.s
./levels/bitfs/platform_on_track
./levels/bitfs/platform_on_track/collision.s
./levels/bitfs/platform_on_track/geo.s
./levels/bitfs/platform_on_track/model.s
./levels/bitfs/seesaw_platform
./levels/bitfs/seesaw_platform/collision.s
./levels/bitfs/seesaw_platform/geo.s
./levels/bitfs/seesaw_platform/model.s
./levels/bitfs/texture.s
./levels/bitfs/leveldata.s
./levels/bitfs/sinking_platforms
./levels/bitfs/sinking_platforms/collision.s
./levels/bitfs/sinking_platforms/geo.s
./levels/bitfs/sinking_platforms/model.s
./levels/bitfs/elevator
./levels/bitfs/elevator/collision.s
./levels/bitfs/elevator/geo.s
./levels/bitfs/elevator/model.s
./levels/hmc
./levels/hmc/header.s
./levels/hmc/script.s
./levels/hmc/rolling_rock
./levels/hmc/rolling_rock/geo.s
./levels/hmc/rolling_rock/model.s
./levels/hmc/level.yaml
./levels/hmc/areas
./levels/hmc/areas/1
./levels/hmc/areas/1/32
./levels/hmc/areas/1/32/model.s
./levels/hmc/areas/1/room.s
./levels/hmc/areas/1/grill_door
./levels/hmc/areas/1/grill_door/collision.s
./levels/hmc/areas/1/grill_door/geo.s
./levels/hmc/areas/1/grill_door/model.s
./levels/hmc/areas/1/collision.s
./levels/hmc/areas/1/painting.s
./levels/hmc/areas/1/20
./levels/hmc/areas/1/20/model.s
./levels/hmc/areas/1/18
./levels/hmc/areas/1/18/model.s
./levels/hmc/areas/1/27
./levels/hmc/areas/1/27/model.s
./levels/hmc/areas/1/9
./levels/hmc/areas/1/9/model.s
./levels/hmc/areas/1/11
./levels/hmc/areas/1/11/model.s
./levels/hmc/areas/1/7
./levels/hmc/areas/1/7/model.s
./levels/hmc/areas/1/29
./levels/hmc/areas/1/29/model.s
./levels/hmc/areas/1/16
./levels/hmc/areas/1/16/model.s
./levels/hmc/areas/1/macro.s
./levels/hmc/areas/1/6
./levels/hmc/areas/1/6/model.s
./levels/hmc/areas/1/28
./levels/hmc/areas/1/28/model.s
./levels/hmc/areas/1/17
./levels/hmc/areas/1/17/model.s
./levels/hmc/areas/1/1
./levels/hmc/areas/1/1/model.s
./levels/hmc/areas/1/10
./levels/hmc/areas/1/10/model.s
./levels/hmc/areas/1/19
./levels/hmc/areas/1/19/model.s
./levels/hmc/areas/1/26
./levels/hmc/areas/1/26/model.s
./levels/hmc/areas/1/8
./levels/hmc/areas/1/8/model.s
./levels/hmc/areas/1/21
./levels/hmc/areas/1/21/model.s
./levels/hmc/areas/1/geo.s
./levels/hmc/areas/1/31
./levels/hmc/areas/1/31/model.s
./levels/hmc/areas/1/trajectory.s
./levels/hmc/areas/1/30
./levels/hmc/areas/1/30/model.s
./levels/hmc/areas/1/movtext.s
./levels/hmc/areas/1/24
./levels/hmc/areas/1/24/model.s
./levels/hmc/areas/1/23
./levels/hmc/areas/1/23/model.s
./levels/hmc/areas/1/4
./levels/hmc/areas/1/4/model.s
./levels/hmc/areas/1/15
./levels/hmc/areas/1/15/model.s
./levels/hmc/areas/1/3
./levels/hmc/areas/1/3/model.s
./levels/hmc/areas/1/12
./levels/hmc/areas/1/12/model.s
./levels/hmc/areas/1/2
./levels/hmc/areas/1/2/model.s
./levels/hmc/areas/1/13
./levels/hmc/areas/1/13/model.s
./levels/hmc/areas/1/5
./levels/hmc/areas/1/5/model.s
./levels/hmc/areas/1/14
./levels/hmc/areas/1/14/model.s
./levels/hmc/areas/1/22
./levels/hmc/areas/1/22/model.s
./levels/hmc/areas/1/25
./levels/hmc/areas/1/25/model.s
./levels/hmc/rolling_rock_fragment_2
./levels/hmc/rolling_rock_fragment_2/geo.s
./levels/hmc/rolling_rock_fragment_2/model.s
./levels/hmc/geo.s
./levels/hmc/elevator_platform
./levels/hmc/elevator_platform/collision.s
./levels/hmc/elevator_platform/geo.s
./levels/hmc/elevator_platform/model.s
./levels/hmc/texture.s
./levels/hmc/leveldata.s
./levels/hmc/arrow_platform_button
./levels/hmc/arrow_platform_button/collision.s
./levels/hmc/arrow_platform_button/geo.s
./levels/hmc/arrow_platform_button/model.s
./levels/hmc/rolling_rock_fragment_1
./levels/hmc/rolling_rock_fragment_1/geo.s
./levels/hmc/rolling_rock_fragment_1/model.s
./levels/hmc/arrow_platform
./levels/hmc/arrow_platform/collision.s
./levels/hmc/arrow_platform/geo.s
./levels/hmc/arrow_platform/model.s
./levels/totwc
./levels/totwc/header.s
./levels/totwc/script.s
./levels/totwc/level.yaml
./levels/totwc/areas
./levels/totwc/areas/1
./levels/totwc/areas/1/collision.s
./levels/totwc/areas/1/macro.s
./levels/totwc/areas/1/1
./levels/totwc/areas/1/1/model.s
./levels/totwc/areas/1/geo.s
./levels/totwc/areas/1/3
./levels/totwc/areas/1/3/model.s
./levels/totwc/areas/1/2
./levels/totwc/areas/1/2/model.s
./levels/totwc/geo.s
./levels/totwc/cloud
./levels/totwc/cloud/collision.s
./levels/totwc/cloud/geo.s
./levels/totwc/cloud/model.s
./levels/totwc/texture.s
./levels/totwc/leveldata.s
./levels/bitdw
./levels/bitdw/header.s
./levels/bitdw/script.s
./levels/bitdw/level.yaml
./levels/bitdw/areas
./levels/bitdw/areas/1
./levels/bitdw/areas/1/narrow_path_platform
./levels/bitdw/areas/1/narrow_path_platform/geo.s
./levels/bitdw/areas/1/narrow_path_platform/model.s
./levels/bitdw/areas/1/large_platform
./levels/bitdw/areas/1/large_platform/geo.s
./levels/bitdw/areas/1/large_platform/model.s
./levels/bitdw/areas/1/quartz_crystal
./levels/bitdw/areas/1/quartz_crystal/geo.s
./levels/bitdw/areas/1/quartz_crystal/model.s
./levels/bitdw/areas/1/quartzy_path_2
./levels/bitdw/areas/1/quartzy_path_2/geo.s
./levels/bitdw/areas/1/quartzy_path_2/model.s
./levels/bitdw/areas/1/platforms_and_tilting
./levels/bitdw/areas/1/platforms_and_tilting/geo.s
./levels/bitdw/areas/1/platforms_and_tilting/model.s
./levels/bitdw/areas/1/platform_with_hill
./levels/bitdw/areas/1/platform_with_hill/geo.s
./levels/bitdw/areas/1/platform_with_hill/model.s
./levels/bitdw/areas/1/platforms_and_tilting_2
./levels/bitdw/areas/1/platforms_and_tilting_2/geo.s
./levels/bitdw/areas/1/platforms_and_tilting_2/model.s
./levels/bitdw/areas/1/collision.s
./levels/bitdw/areas/1/quartzy_path_fences
./levels/bitdw/areas/1/quartzy_path_fences/geo.s
./levels/bitdw/areas/1/quartzy_path_fences/model.s
./levels/bitdw/areas/1/staircase_slope_and_platform
./levels/bitdw/areas/1/staircase_slope_and_platform/geo.s
./levels/bitdw/areas/1/staircase_slope_and_platform/model.s
./levels/bitdw/areas/1/macro.s
./levels/bitdw/areas/1/track_for_pyramid_platforms
./levels/bitdw/areas/1/track_for_pyramid_platforms/geo.s
./levels/bitdw/areas/1/track_for_pyramid_platforms/model.s
./levels/bitdw/areas/1/1
./levels/bitdw/areas/1/1/model.s
./levels/bitdw/areas/1/quartzy_path_1
./levels/bitdw/areas/1/quartzy_path_1/geo.s
./levels/bitdw/areas/1/quartzy_path_1/model.s
./levels/bitdw/areas/1/geo.s
./levels/bitdw/areas/1/starting_platform
./levels/bitdw/areas/1/starting_platform/geo.s
./levels/bitdw/areas/1/starting_platform/model.s
./levels/bitdw/areas/1/wooden_bridge_and_fences
./levels/bitdw/areas/1/wooden_bridge_and_fences/geo.s
./levels/bitdw/areas/1/wooden_bridge_and_fences/model.s
./levels/bitdw/areas/1/octogonal_platform
./levels/bitdw/areas/1/octogonal_platform/geo.s
./levels/bitdw/areas/1/octogonal_platform/model.s
./levels/bitdw/areas/1/wooden_platform
./levels/bitdw/areas/1/wooden_platform/geo.s
./levels/bitdw/areas/1/wooden_platform/model.s
./levels/bitdw/collapsing_stairs_4
./levels/bitdw/collapsing_stairs_4/collision.s
./levels/bitdw/collapsing_stairs_4/geo.s
./levels/bitdw/collapsing_stairs_4/model.s
./levels/bitdw/collapsing_stairs_3
./levels/bitdw/collapsing_stairs_3/collision.s
./levels/bitdw/collapsing_stairs_3/geo.s
./levels/bitdw/collapsing_stairs_3/model.s
./levels/bitdw/collapsing_stairs_2
./levels/bitdw/collapsing_stairs_2/collision.s
./levels/bitdw/collapsing_stairs_2/geo.s
./levels/bitdw/collapsing_stairs_2/model.s
./levels/bitdw/collapsing_stairs_5
./levels/bitdw/collapsing_stairs_5/collision.s
./levels/bitdw/collapsing_stairs_5/geo.s
./levels/bitdw/collapsing_stairs_5/model.s
./levels/bitdw/sliding_platform
./levels/bitdw/sliding_platform/collision.s
./levels/bitdw/sliding_platform/geo.s
./levels/bitdw/sliding_platform/model.s
./levels/bitdw/square_platform
./levels/bitdw/square_platform/collision.s
./levels/bitdw/square_platform/geo.s
./levels/bitdw/square_platform/model.s
./levels/bitdw/ferris_platform
./levels/bitdw/ferris_platform/collision.s
./levels/bitdw/ferris_platform/geo.s
./levels/bitdw/ferris_platform/model.s
./levels/bitdw/geo.s
./levels/bitdw/ferris_wheel_axle
./levels/bitdw/ferris_wheel_axle/collision.s
./levels/bitdw/ferris_wheel_axle/geo.s
./levels/bitdw/ferris_wheel_axle/model.s
./levels/bitdw/seesaw_platform
./levels/bitdw/seesaw_platform/collision.s
./levels/bitdw/seesaw_platform/geo.s
./levels/bitdw/seesaw_platform/model.s
./levels/bitdw/texture.s
./levels/bitdw/leveldata.s
./levels/bitdw/collapsing_stairs_1
./levels/bitdw/collapsing_stairs_1/collision.s
./levels/bitdw/collapsing_stairs_1/geo.s
./levels/bitdw/collapsing_stairs_1/model.s
./levels/pss
./levels/pss/header.s
./levels/pss/script.s
./levels/pss/level.yaml
./levels/pss/areas
./levels/pss/areas/1
./levels/pss/areas/1/collision.s
./levels/pss/areas/1/7
./levels/pss/areas/1/7/model.s
./levels/pss/areas/1/macro.s
./levels/pss/areas/1/6
./levels/pss/areas/1/6/model.s
./levels/pss/areas/1/1
./levels/pss/areas/1/1/model.s
./levels/pss/areas/1/geo.s
./levels/pss/areas/1/4
./levels/pss/areas/1/4/model.s
./levels/pss/areas/1/3
./levels/pss/areas/1/3/model.s
./levels/pss/areas/1/2
./levels/pss/areas/1/2/model.s
./levels/pss/areas/1/5
./levels/pss/areas/1/5/model.s
./levels/pss/geo.s
./levels/pss/texture.s
./levels/pss/leveldata.s
./levels/bbh
./levels/bbh/tumbling_platform_far
./levels/bbh/tumbling_platform_far/collision.s
./levels/bbh/tumbling_platform_far/geo.s
./levels/bbh/tumbling_platform_far/model.s
./levels/bbh/header.s
./levels/bbh/script.s
./levels/bbh/level.yaml
./levels/bbh/merry_go_round
./levels/bbh/merry_go_round/collision.s
./levels/bbh/merry_go_round/geo.s
./levels/bbh/merry_go_round/model.s
./levels/bbh/areas
./levels/bbh/areas/1
./levels/bbh/areas/1/32
./levels/bbh/areas/1/32/model.s
./levels/bbh/areas/1/35
./levels/bbh/areas/1/35/model.s
./levels/bbh/areas/1/34
./levels/bbh/areas/1/34/model.s
./levels/bbh/areas/1/33
./levels/bbh/areas/1/33/model.s
./levels/bbh/areas/1/room.s
./levels/bbh/areas/1/collision.s
./levels/bbh/areas/1/20
./levels/bbh/areas/1/20/model.s
./levels/bbh/areas/1/18
./levels/bbh/areas/1/18/model.s
./levels/bbh/areas/1/27
./levels/bbh/areas/1/27/model.s
./levels/bbh/areas/1/9
./levels/bbh/areas/1/9/model.s
./levels/bbh/areas/1/11
./levels/bbh/areas/1/11/model.s
./levels/bbh/areas/1/7
./levels/bbh/areas/1/7/model.s
./levels/bbh/areas/1/29
./levels/bbh/areas/1/29/model.s
./levels/bbh/areas/1/16
./levels/bbh/areas/1/16/model.s
./levels/bbh/areas/1/macro.s
./levels/bbh/areas/1/6
./levels/bbh/areas/1/6/model.s
./levels/bbh/areas/1/28
./levels/bbh/areas/1/28/model.s
./levels/bbh/areas/1/17
./levels/bbh/areas/1/17/model.s
./levels/bbh/areas/1/1
./levels/bbh/areas/1/1/model.s
./levels/bbh/areas/1/10
./levels/bbh/areas/1/10/model.s
./levels/bbh/areas/1/19
./levels/bbh/areas/1/19/model.s
./levels/bbh/areas/1/26
./levels/bbh/areas/1/26/model.s
./levels/bbh/areas/1/8
./levels/bbh/areas/1/8/model.s
./levels/bbh/areas/1/21
./levels/bbh/areas/1/21/model.s
./levels/bbh/areas/1/38
./levels/bbh/areas/1/38/model.s
./levels/bbh/areas/1/36
./levels/bbh/areas/1/36/model.s
./levels/bbh/areas/1/geo.s
./levels/bbh/areas/1/31
./levels/bbh/areas/1/31/model.s
./levels/bbh/areas/1/30
./levels/bbh/areas/1/30/model.s
./levels/bbh/areas/1/37
./levels/bbh/areas/1/37/model.s
./levels/bbh/areas/1/movtext.s
./levels/bbh/areas/1/39
./levels/bbh/areas/1/39/model.s
./levels/bbh/areas/1/24
./levels/bbh/areas/1/24/model.s
./levels/bbh/areas/1/23
./levels/bbh/areas/1/23/model.s
./levels/bbh/areas/1/4
./levels/bbh/areas/1/4/model.s
./levels/bbh/areas/1/15
./levels/bbh/areas/1/15/model.s
./levels/bbh/areas/1/3
./levels/bbh/areas/1/3/model.s
./levels/bbh/areas/1/12
./levels/bbh/areas/1/12/model.s
./levels/bbh/areas/1/2
./levels/bbh/areas/1/2/model.s
./levels/bbh/areas/1/13
./levels/bbh/areas/1/13/model.s
./levels/bbh/areas/1/5
./levels/bbh/areas/1/5/model.s
./levels/bbh/areas/1/14
./levels/bbh/areas/1/14/model.s
./levels/bbh/areas/1/22
./levels/bbh/areas/1/22/model.s
./levels/bbh/areas/1/25
./levels/bbh/areas/1/25/model.s
./levels/bbh/tumbling_platform_near
./levels/bbh/tumbling_platform_near/collision.s
./levels/bbh/tumbling_platform_near/geo.s
./levels/bbh/tumbling_platform_near/model.s
./levels/bbh/tilting_trap_platform
./levels/bbh/tilting_trap_platform/collision.s
./levels/bbh/tilting_trap_platform/geo.s
./levels/bbh/tilting_trap_platform/model.s
./levels/bbh/staircase_step
./levels/bbh/staircase_step/collision.s
./levels/bbh/staircase_step/geo.s
./levels/bbh/staircase_step/model.s
./levels/bbh/geo.s
./levels/bbh/mesh_elevator
./levels/bbh/mesh_elevator/collision.s
./levels/bbh/mesh_elevator/geo.s
./levels/bbh/mesh_elevator/model.s
./levels/bbh/coffin
./levels/bbh/coffin/collision.s
./levels/bbh/coffin/geo.s
./levels/bbh/coffin/model.s
./levels/bbh/moving_bookshelf
./levels/bbh/moving_bookshelf/collision.s
./levels/bbh/moving_bookshelf/geo.s
./levels/bbh/moving_bookshelf/model.s
./levels/bbh/texture.s
./levels/bbh/leveldata.s
./levels/bowser_3
./levels/bowser_3/falling_platform_10
./levels/bowser_3/falling_platform_10/collision.s
./levels/bowser_3/falling_platform_10/geo.s
./levels/bowser_3/falling_platform_10/model.s
./levels/bowser_3/header.s
./levels/bowser_3/script.s
./levels/bowser_3/level.yaml
./levels/bowser_3/areas
./levels/bowser_3/areas/1
./levels/bowser_3/areas/1/collision.s
./levels/bowser_3/areas/1/1
./levels/bowser_3/areas/1/1/model.s
./levels/bowser_3/areas/1/geo.s
./levels/bowser_3/areas/1/bomb_stand
./levels/bowser_3/areas/1/bomb_stand/geo.s
./levels/bowser_3/areas/1/bomb_stand/model.s
./levels/bowser_3/falling_platform_9
./levels/bowser_3/falling_platform_9/collision.s
./levels/bowser_3/falling_platform_9/geo.s
./levels/bowser_3/falling_platform_9/model.s
./levels/bowser_3/falling_platform_7
./levels/bowser_3/falling_platform_7/collision.s
./levels/bowser_3/falling_platform_7/geo.s
./levels/bowser_3/falling_platform_7/model.s
./levels/bowser_3/falling_platform_1
./levels/bowser_3/falling_platform_1/collision.s
./levels/bowser_3/falling_platform_1/geo.s
./levels/bowser_3/falling_platform_1/model.s
./levels/bowser_3/falling_platform_6
./levels/bowser_3/falling_platform_6/collision.s
./levels/bowser_3/falling_platform_6/geo.s
./levels/bowser_3/falling_platform_6/model.s
./levels/bowser_3/falling_platform_8
./levels/bowser_3/falling_platform_8/collision.s
./levels/bowser_3/falling_platform_8/geo.s
./levels/bowser_3/falling_platform_8/model.s
./levels/bowser_3/geo.s
./levels/bowser_3/texture.s
./levels/bowser_3/leveldata.s
./levels/bowser_3/falling_platform_3
./levels/bowser_3/falling_platform_3/collision.s
./levels/bowser_3/falling_platform_3/geo.s
./levels/bowser_3/falling_platform_3/model.s
./levels/bowser_3/falling_platform_4
./levels/bowser_3/falling_platform_4/collision.s
./levels/bowser_3/falling_platform_4/geo.s
./levels/bowser_3/falling_platform_4/model.s
./levels/bowser_3/falling_platform_5
./levels/bowser_3/falling_platform_5/collision.s
./levels/bowser_3/falling_platform_5/geo.s
./levels/bowser_3/falling_platform_5/model.s
./levels/bowser_3/falling_platform_2
./levels/bowser_3/falling_platform_2/collision.s
./levels/bowser_3/falling_platform_2/geo.s
./levels/bowser_3/falling_platform_2/model.s
./levels/thi
./levels/thi/header.s
./levels/thi/script.s
./levels/thi/level.yaml
./levels/thi/areas
./levels/thi/areas/1
./levels/thi/areas/1/collision.s
./levels/thi/areas/1/7
./levels/thi/areas/1/7/geo.s
./levels/thi/areas/1/7/model.s
./levels/thi/areas/1/macro.s
./levels/thi/areas/1/6
./levels/thi/areas/1/6/collision.s
./levels/thi/areas/1/6/geo.s
./levels/thi/areas/1/6/model.s
./levels/thi/areas/1/1
./levels/thi/areas/1/1/model.s
./levels/thi/areas/1/geo.s
./levels/thi/areas/1/trajectory.s
./levels/thi/areas/1/movtext.s
./levels/thi/areas/1/4
./levels/thi/areas/1/4/model.s
./levels/thi/areas/1/3
./levels/thi/areas/1/3/model.s
./levels/thi/areas/1/2
./levels/thi/areas/1/2/model.s
./levels/thi/areas/1/5
./levels/thi/areas/1/5/model.s
./levels/thi/areas/3
./levels/thi/areas/3/collision.s
./levels/thi/areas/3/macro.s
./levels/thi/areas/3/1
./levels/thi/areas/3/1/model.s
./levels/thi/areas/3/geo.s
./levels/thi/areas/3/4
./levels/thi/areas/3/4/model.s
./levels/thi/areas/3/3
./levels/thi/areas/3/3/model.s
./levels/thi/areas/3/2
./levels/thi/areas/3/2/model.s
./levels/thi/areas/2
./levels/thi/areas/2/collision.s
./levels/thi/areas/2/macro.s
./levels/thi/areas/2/1
./levels/thi/areas/2/1/model.s
./levels/thi/areas/2/geo.s
./levels/thi/areas/2/movtext.s
./levels/thi/geo.s
./levels/thi/texture.s
./levels/thi/leveldata.s
./levels/castle_inside
./levels/castle_inside/header.s
./levels/castle_inside/script.s
./levels/castle_inside/level.yaml
./levels/castle_inside/areas
./levels/castle_inside/areas/1
./levels/castle_inside/areas/1/room.s
./levels/castle_inside/areas/1/collision.s
./levels/castle_inside/areas/1/20
./levels/castle_inside/areas/1/20/model.s
./levels/castle_inside/areas/1/18
./levels/castle_inside/areas/1/18/model.s
./levels/castle_inside/areas/1/9
./levels/castle_inside/areas/1/9/model.s
./levels/castle_inside/areas/1/11
./levels/castle_inside/areas/1/11/model.s
./levels/castle_inside/areas/1/7
./levels/castle_inside/areas/1/7/model.s
./levels/castle_inside/areas/1/16
./levels/castle_inside/areas/1/16/model.s
./levels/castle_inside/areas/1/macro.s
./levels/castle_inside/areas/1/6
./levels/castle_inside/areas/1/6/model.s
./levels/castle_inside/areas/1/17
./levels/castle_inside/areas/1/17/model.s
./levels/castle_inside/areas/1/1
./levels/castle_inside/areas/1/1/model.s
./levels/castle_inside/areas/1/10
./levels/castle_inside/areas/1/10/model.s
./levels/castle_inside/areas/1/19
./levels/castle_inside/areas/1/19/model.s
./levels/castle_inside/areas/1/26
./levels/castle_inside/areas/1/26/model.s
./levels/castle_inside/areas/1/8
./levels/castle_inside/areas/1/8/model.s
./levels/castle_inside/areas/1/21
./levels/castle_inside/areas/1/21/model.s
./levels/castle_inside/areas/1/geo.s
./levels/castle_inside/areas/1/24
./levels/castle_inside/areas/1/24/model.s
./levels/castle_inside/areas/1/23
./levels/castle_inside/areas/1/23/model.s
./levels/castle_inside/areas/1/4
./levels/castle_inside/areas/1/4/model.s
./levels/castle_inside/areas/1/15
./levels/castle_inside/areas/1/15/model.s
./levels/castle_inside/areas/1/3
./levels/castle_inside/areas/1/3/model.s
./levels/castle_inside/areas/1/12
./levels/castle_inside/areas/1/12/model.s
./levels/castle_inside/areas/1/2
./levels/castle_inside/areas/1/2/model.s
./levels/castle_inside/areas/1/13
./levels/castle_inside/areas/1/13/model.s
./levels/castle_inside/areas/1/5
./levels/castle_inside/areas/1/5/model.s
./levels/castle_inside/areas/1/14
./levels/castle_inside/areas/1/14/model.s
./levels/castle_inside/areas/1/22
./levels/castle_inside/areas/1/22/model.s
./levels/castle_inside/areas/1/25
./levels/castle_inside/areas/1/25/model.s
./levels/castle_inside/areas/3
./levels/castle_inside/areas/3/room.s
./levels/castle_inside/areas/3/collision.s
./levels/castle_inside/areas/3/9
./levels/castle_inside/areas/3/9/model.s
./levels/castle_inside/areas/3/11
./levels/castle_inside/areas/3/11/model.s
./levels/castle_inside/areas/3/7
./levels/castle_inside/areas/3/7/model.s
./levels/castle_inside/areas/3/macro.s
./levels/castle_inside/areas/3/6
./levels/castle_inside/areas/3/6/model.s
./levels/castle_inside/areas/3/1
./levels/castle_inside/areas/3/1/model.s
./levels/castle_inside/areas/3/10
./levels/castle_inside/areas/3/10/model.s
./levels/castle_inside/areas/3/8
./levels/castle_inside/areas/3/8/model.s
./levels/castle_inside/areas/3/geo.s
./levels/castle_inside/areas/3/trajectory.s
./levels/castle_inside/areas/3/movtext.s
./levels/castle_inside/areas/3/4
./levels/castle_inside/areas/3/4/model.s
./levels/castle_inside/areas/3/3
./levels/castle_inside/areas/3/3/model.s
./levels/castle_inside/areas/3/2
./levels/castle_inside/areas/3/2/model.s
./levels/castle_inside/areas/3/5
./levels/castle_inside/areas/3/5/model.s
./levels/castle_inside/areas/2
./levels/castle_inside/areas/2/room.s
./levels/castle_inside/areas/2/collision.s
./levels/castle_inside/areas/2/pendulum
./levels/castle_inside/areas/2/pendulum/geo.s
./levels/castle_inside/areas/2/pendulum/model.s
./levels/castle_inside/areas/2/9
./levels/castle_inside/areas/2/9/model.s
./levels/castle_inside/areas/2/11
./levels/castle_inside/areas/2/11/model.s
./levels/castle_inside/areas/2/7
./levels/castle_inside/areas/2/7/model.s
./levels/castle_inside/areas/2/macro.s
./levels/castle_inside/areas/2/6
./levels/castle_inside/areas/2/6/model.s
./levels/castle_inside/areas/2/1
./levels/castle_inside/areas/2/1/model.s
./levels/castle_inside/areas/2/10
./levels/castle_inside/areas/2/10/model.s
./levels/castle_inside/areas/2/8
./levels/castle_inside/areas/2/8/model.s
./levels/castle_inside/areas/2/geo.s
./levels/castle_inside/areas/2/4
./levels/castle_inside/areas/2/4/model.s
./levels/castle_inside/areas/2/15
./levels/castle_inside/areas/2/15/model.s
./levels/castle_inside/areas/2/3
./levels/castle_inside/areas/2/3/model.s
./levels/castle_inside/areas/2/12
./levels/castle_inside/areas/2/12/model.s
./levels/castle_inside/areas/2/2
./levels/castle_inside/areas/2/2/model.s
./levels/castle_inside/areas/2/13
./levels/castle_inside/areas/2/13/model.s
./levels/castle_inside/areas/2/5
./levels/castle_inside/areas/2/5/model.s
./levels/castle_inside/areas/2/14
./levels/castle_inside/areas/2/14/model.s
./levels/castle_inside/painting.s
./levels/castle_inside/clock_hour_hand
./levels/castle_inside/clock_hour_hand/collision.s
./levels/castle_inside/clock_hour_hand/geo.s
./levels/castle_inside/clock_hour_hand/model.s
./levels/castle_inside/geo.s
./levels/castle_inside/texture.s
./levels/castle_inside/leveldata.s
./levels/castle_inside/star_door
./levels/castle_inside/star_door/collision.s
./levels/castle_inside/star_door/geo.s
./levels/castle_inside/star_door/model.s
./levels/castle_inside/trap_door
./levels/castle_inside/trap_door/collision.s
./levels/castle_inside/trap_door/geo.s
./levels/castle_inside/trap_door/model.s
./levels/castle_inside/water_level_pillar
./levels/castle_inside/water_level_pillar/collision.s
./levels/castle_inside/water_level_pillar/geo.s
./levels/castle_inside/water_level_pillar/model.s
./levels/castle_inside/clock_minute_hand
./levels/castle_inside/clock_minute_hand/collision.s
./levels/castle_inside/clock_minute_hand/geo.s
./levels/castle_inside/clock_minute_hand/model.s
./levels/bowser_2
./levels/bowser_2/header.s
./levels/bowser_2/script.s
./levels/bowser_2/tilting_platform
./levels/bowser_2/tilting_platform/collision.s
./levels/bowser_2/tilting_platform/geo.s
./levels/bowser_2/tilting_platform/model.s
./levels/bowser_2/level.yaml
./levels/bowser_2/areas
./levels/bowser_2/areas/1
./levels/bowser_2/areas/1/collision.s
./levels/bowser_2/areas/1/1
./levels/bowser_2/areas/1/1/model.s
./levels/bowser_2/areas/1/geo.s
./levels/bowser_2/geo.s
./levels/bowser_2/texture.s
./levels/bowser_2/leveldata.s
./levels/wf
./levels/wf/extending_platform
./levels/wf/extending_platform/collision.s
./levels/wf/extending_platform/geo.s
./levels/wf/extending_platform/model.s
./levels/wf/header.s
./levels/wf/script.s
./levels/wf/level.yaml
./levels/wf/areas
./levels/wf/areas/1
./levels/wf/areas/1/collision.s
./levels/wf/areas/1/18
./levels/wf/areas/1/18/geo.s
./levels/wf/areas/1/18/model.s
./levels/wf/areas/1/9
./levels/wf/areas/1/9/geo.s
./levels/wf/areas/1/9/model.s
./levels/wf/areas/1/11
./levels/wf/areas/1/11/collision.s
./levels/wf/areas/1/11/geo.s
./levels/wf/areas/1/11/model.s
./levels/wf/areas/1/7
./levels/wf/areas/1/7/geo.s
./levels/wf/areas/1/7/model.s
./levels/wf/areas/1/16
./levels/wf/areas/1/16/geo.s
./levels/wf/areas/1/16/model.s
./levels/wf/areas/1/macro.s
./levels/wf/areas/1/6
./levels/wf/areas/1/6/1.s
./levels/wf/areas/1/6/2.s
./levels/wf/areas/1/6/geo.s
./levels/wf/areas/1/17
./levels/wf/areas/1/17/geo.s
./levels/wf/areas/1/17/model.s
./levels/wf/areas/1/1
./levels/wf/areas/1/1/model.s
./levels/wf/areas/1/10
./levels/wf/areas/1/10/1.s
./levels/wf/areas/1/10/collision.s
./levels/wf/areas/1/10/2.s
./levels/wf/areas/1/10/geo.s
./levels/wf/areas/1/19
./levels/wf/areas/1/19/geo.s
./levels/wf/areas/1/19/model.s
./levels/wf/areas/1/8
./levels/wf/areas/1/8/geo.s
./levels/wf/areas/1/8/model.s
./levels/wf/areas/1/geo.s
./levels/wf/areas/1/movtext.s
./levels/wf/areas/1/4
./levels/wf/areas/1/4/model.s
./levels/wf/areas/1/15
./levels/wf/areas/1/15/1.s
./levels/wf/areas/1/15/2.s
./levels/wf/areas/1/15/geo.s
./levels/wf/areas/1/15/3.s
./levels/wf/areas/1/3
./levels/wf/areas/1/3/model.s
./levels/wf/areas/1/12
./levels/wf/areas/1/12/1.s
./levels/wf/areas/1/12/2.s
./levels/wf/areas/1/12/geo.s
./levels/wf/areas/1/2
./levels/wf/areas/1/2/model.s
./levels/wf/areas/1/13
./levels/wf/areas/1/13/geo.s
./levels/wf/areas/1/13/model.s
./levels/wf/areas/1/5
./levels/wf/areas/1/5/1.s
./levels/wf/areas/1/5/2.s
./levels/wf/areas/1/5/geo.s
./levels/wf/areas/1/14
./levels/wf/areas/1/14/geo.s
./levels/wf/areas/1/14/model.s
./levels/wf/breakable_wall_right
./levels/wf/breakable_wall_right/collision.s
./levels/wf/breakable_wall_right/geo.s
./levels/wf/breakable_wall_right/model.s
./levels/wf/rotating_platform
./levels/wf/rotating_platform/collision.s
./levels/wf/rotating_wooden_platform
./levels/wf/rotating_wooden_platform/1.s
./levels/wf/rotating_wooden_platform/collision.s
./levels/wf/rotating_wooden_platform/2.s
./levels/wf/rotating_wooden_platform/geo.s
./levels/wf/sliding_platform
./levels/wf/sliding_platform/collision.s
./levels/wf/sliding_platform/geo.s
./levels/wf/sliding_platform/model.s
./levels/wf/kickable_board
./levels/wf/kickable_board/1.s
./levels/wf/kickable_board/collision.s
./levels/wf/kickable_board/2.s
./levels/wf/kickable_board/geo.s
./levels/wf/geo.s
./levels/wf/tumbling_bridge_near
./levels/wf/tumbling_bridge_near/collision.s
./levels/wf/tumbling_bridge_near/geo.s
./levels/wf/tumbling_bridge_near/model.s
./levels/wf/small_bomp
./levels/wf/small_bomp/1.s
./levels/wf/small_bomp/collision.s
./levels/wf/small_bomp/2.s
./levels/wf/small_bomp/geo.s
./levels/wf/tumbling_bridge_far
./levels/wf/tumbling_bridge_far/geo.s
./levels/wf/tumbling_bridge_far/model.s
./levels/wf/beta_extending_platform
./levels/wf/beta_extending_platform/collision.s
./levels/wf/beta_extending_platform/geo.s
./levels/wf/beta_extending_platform/model.s
./levels/wf/large_bomp
./levels/wf/large_bomp/collision.s
./levels/wf/large_bomp/geo.s
./levels/wf/large_bomp/model.s
./levels/wf/texture.s
./levels/wf/leveldata.s
./levels/wf/tower_door
./levels/wf/tower_door/collision.s
./levels/wf/tower_door/geo.s
./levels/wf/tower_door/model.s
./levels/wf/breakable_wall_left
./levels/wf/breakable_wall_left/collision.s
./levels/wf/breakable_wall_left/geo.s
./levels/wf/breakable_wall_left/model.s
./levels/wmotr
./levels/wmotr/header.s
./levels/wmotr/script.s
./levels/wmotr/level.yaml
./levels/wmotr/areas
./levels/wmotr/areas/1
./levels/wmotr/areas/1/collision.s
./levels/wmotr/areas/1/macro.s
./levels/wmotr/areas/1/geo.s
./levels/wmotr/areas/1/model.s
./levels/wmotr/geo.s
./levels/wmotr/texture.s
./levels/wmotr/leveldata.s
./data
./data/trig_tables.s
./data/gfx_output_buffer.s
./data/goddard_tex_dl.s
./data/rom_header.s
./data/framebuffers.s
./data/behavior_data.s
./assets
./assets/demo_data.s
./assets/anims
./assets/anims/anim_A5.s
./assets/anims/anim_9B.s
./assets/anims/anim_BC_BD.s
./assets/anims/anim_7E.s
./assets/anims/anim_40.s
./assets/anims/anim_1D.s
./assets/anims/anim_4D_4E.s
./assets/anims/anim_21.s
./assets/anims/anim_65.s
./assets/anims/anim_C0.s
./assets/anims/anim_8E_8F.s
./assets/anims/anim_82.s
./assets/anims/anim_04.s
./assets/anims/anim_CB_CC.s
./assets/anims/anim_3A.s
./assets/anims/anim_3E.s
./assets/anims/anim_00.s
./assets/anims/anim_5D.s
./assets/anims/anim_61.s
./assets/anims/anim_86.s
./assets/anims/anim_C4.s
./assets/anims/anim_25.s
./assets/anims/anim_A1.s
./assets/anims/anim_9F.s
./assets/anims/anim_44.s
./assets/anims/anim_7A.s
./assets/anims/anim_2E.s
./assets/anims/anim_71.s
./assets/anims/anim_96.s
./assets/anims/anim_AA.s
./assets/anims/anim_B4.s
./assets/anims/anim_35.s
./assets/anims/anim_72_73.s
./assets/anims/anim_3C_3D.s
./assets/anims/anim_CD.s
./assets/anims/anim_54.s
./assets/anims/anim_6A.s
./assets/anims/anim_8B.s
./assets/anims/anim_0F_10.s
./assets/anims/anim_6E.s
./assets/anims/anim_50.s
./assets/anims/anim_45_46.s
./assets/anims/anim_0D.s
./assets/anims/anim_31.s
./assets/anims/anim_75.s
./assets/anims/anim_B0.s
./assets/anims/anim_92.s
./assets/anims/anim_AE.s
./assets/anims/anim_14.s
./assets/anims/anim_2A.s
./assets/anims/anim_98.s
./assets/anims/anim_5C.s
./assets/anims/anim_66.s
./assets/anims/anim_81.s
./assets/anims/anim_C3.s
./assets/anims/anim_3B.s
./assets/anims/anim_C9.s
./assets/anims/anim_9A.s
./assets/anims/anim_A6.s
./assets/anims/anim_43.s
./assets/anims/anim_2C_2D.s
./assets/anims/anim_7F.s
./assets/anims/anim_28.s
./assets/anims/anim_22.s
./assets/anims/anim_49.s
./assets/anims/anim_A8.s
./assets/anims/anim_1C.s
./assets/anims/anim_26.s
./assets/anims/anim_9E.s
./assets/anims/anim_A2.s
./assets/anims/anim_7B.s
./assets/anims/anim_47.s
./assets/anims/anim_03.s
./assets/anims/anim_68.s
./assets/anims/anim_3F.s
./assets/anims/anim_62.s
./assets/anims/anim_09.s
./assets/anims/anim_C7.s
./assets/anims/anim_85.s
./assets/anims/anim_36.s
./assets/anims/anim_56_57.s
./assets/anims/anim_6B.s
./assets/anims/anim_13.s
./assets/anims/anim_78.s
./assets/anims/anim_2F.s
./assets/anims/anim_19.s
./assets/anims/anim_B7.s
./assets/anims/anim_AB.s
./assets/anims/anim_95.s
./assets/anims/anim_4C.s
./assets/anims/anim_76.s
./assets/anims/anim_AF.s
./assets/anims/anim_91.s
./assets/anims/anim_B3.s
./assets/anims/anim_2B.s
./assets/anims/anim_17.s
./assets/anims/anim_B9.s
./assets/anims/anim_8A.s
./assets/anims/anim_53.s
./assets/anims/anim_38.s
./assets/anims/anim_32.s
./assets/anims/anim_59.s
./assets/anims/anim_C8.s
./assets/anims/anim_06.s
./assets/anims/anim_C2.s
./assets/anims/anim_80.s
./assets/anims/anim_67.s
./assets/anims/anim_5B.s
./assets/anims/anim_1F.s
./assets/anims/anim_48.s
./assets/anims/anim_23.s
./assets/anims/anim_29.s
./assets/anims/anim_42.s
./assets/anims/anim_BB.s
./assets/anims/anim_A7.s
./assets/anims/anim_7C.s
./assets/anims/anim_9D.s
./assets/anims/anim_A3.s
./assets/anims/anim_BF.s
./assets/anims/anim_27.s
./assets/anims/anim_1B.s
./assets/anims/anim_A9.s
./assets/anims/anim_84.s
./assets/anims/anim_C6.s
./assets/anims/anim_B5_B6.s
./assets/anims/anim_5F.s
./assets/anims/anim_63.s
./assets/anims/anim_69.s
./assets/anims/anim_01_02.s
./assets/anims/anim_6C.s
./assets/anims/anim_8D.s
./assets/anims/anim_CF.s
./assets/anims/anim_37.s
./assets/anims/anim_AC.s
./assets/anims/anim_94.s
./assets/anims/anim_18.s
./assets/anims/anim_4F.s
./assets/anims/anim_79.s
./assets/anims/anim_12.s
./assets/anims/anim_B8.s
./assets/anims/anim_16.s
./assets/anims/anim_B2.s
./assets/anims/anim_90.s
./assets/anims/anim_77.s
./assets/anims/anim_4B.s
./assets/anims/anim_58.s
./assets/anims/anim_33.s
./assets/anims/anim_39.s
./assets/anims/anim_52.s
./assets/anims/anim_88_89.s
./assets/anims/anim_20.s
./assets/anims/anim_1E.s
./assets/anims/anim_41.s
./assets/anims/anim_7D.s
./assets/anims/anim_A4.s
./assets/anims/anim_9C.s
./assets/anims/anim_BA.s
./assets/anims/anim_07_08.s
./assets/anims/anim_05.s
./assets/anims/anim_83.s
./assets/anims/anim_C1.s
./assets/anims/anim_5A.s
./assets/anims/anim_64.s
./assets/anims/anim_C5.s
./assets/anims/anim_87.s
./assets/anims/anim_60.s
./assets/anims/anim_5E.s
./assets/anims/anim_6F_70.s
./assets/anims/anim_BE.s
./assets/anims/anim_A0.s
./assets/anims/anim_1A.s
./assets/anims/anim_24.s
./assets/anims/anim_97.s
./assets/anims/anim_11.s
./assets/anims/anim_55.s
./assets/anims/anim_CE.s
./assets/anims/anim_0A.s
./assets/anims/anim_0B_0C.s
./assets/anims/anim_34.s
./assets/anims/anim_30.s
./assets/anims/anim_0E.s
./assets/anims/anim_51.s
./assets/anims/anim_6D.s
./assets/anims/anim_8C.s
./assets/anims/anim_CA.s
./assets/anims/anim_99.s
./assets/anims/anim_D0.s
./assets/anims/anim_15.s
./assets/anims/anim_93.s
./assets/anims/anim_AD.s
./assets/anims/anim_B1.s
./assets/anims/anim_4A.s
./assets/anims/anim_74.s
./assets/mario_anim_data.s
./sound
./sound/sound_banks
./sound/sound_banks/1A.json
./sound/sound_banks/20.json
./sound/sound_banks/16.json
./sound/sound_banks/00.json
./sound/sound_banks/01.json
./sound/sound_banks/17.json
./sound/sound_banks/21.json
./sound/sound_banks/0F.json
./sound/sound_banks/10.json
./sound/sound_banks/06.json
./sound/sound_banks/0A.json
./sound/sound_banks/1F.json
./sound/sound_banks/07.json
./sound/sound_banks/11.json
./sound/sound_banks/04.json
./sound/sound_banks/12.json
./sound/sound_banks/24.json
./sound/sound_banks/08.json
./sound/sound_banks/0C.json
./sound/sound_banks/1E.json
./sound/sound_banks/1D.json
./sound/sound_banks/0B.json
./sound/sound_banks/09.json
./sound/sound_banks/25.json
./sound/sound_banks/13.json
./sound/sound_banks/05.json
./sound/sound_banks/22.json
./sound/sound_banks/0E.json
./sound/sound_banks/18.json
./sound/sound_banks/1C.json
./sound/sound_banks/02.json
./sound/sound_banks/14.json
./sound/sound_banks/15.json
./sound/sound_banks/03.json
./sound/sound_banks/1B.json
./sound/sound_banks/19.json
./sound/sound_banks/0D.json
./sound/sound_banks/23.json
./sound/sequences.json
./sound/README.md
./sound/sequences
./sound/sequences/00_sound_player.s
./sm64.jp.sha1
./sm64.eu.sha1
./format.sh
/src
/src/buffers
/src/buffers/buffers.c
/src/buffers/buffers.h
/src/game
/src/game/main.h
/src/game/obj_behaviors_2.h
/src/game/level_update.c
/src/game/game.c
/src/game/segment7.h
/src/game/mario_actions_stationary.h
/src/game/mario_actions_object.c
/src/game/display.c
/src/game/debug.h
/src/game/mario_actions_moving.h
/src/game/spawn_sound.c
/src/game/shadow.c
/src/game/memory.c
/src/game/macro_special_objects.c
/src/game/object_helpers.c
/src/game/sound_init.h
/src/game/room.h
/src/game/skybox.h
/src/game/geo_misc.c
/src/game/print.c
/src/game/rendering_graph_node.c
/src/game/mario.c
/src/game/save_file.c
/src/game/hud.h
/src/game/mario_actions_automatic.h
/src/game/interaction.h
/src/game/envfx_snow.c
/src/game/mario_actions_cutscene.c
/src/game/profiler.c
/src/game/mario_step.h
/src/game/camera.h
/src/game/envfx_bubbles.h
/src/game/mario_actions_submerged.h
/src/game/ingame_menu.h
/src/game/mario_misc.h
/src/game/behavior_actions.c
/src/game/screen_transition.h
/src/game/debug_course.c
/src/game/object_helpers2.h
/src/game/moving_texture.h
/src/game/paintings.c
/src/game/level_geo.h
/src/game/spawn_object.c
/src/game/obj_behaviors.c
/src/game/area.h
/src/game/mario_actions_airborne.c
/src/game/object_collision.h
/src/game/platform_displacement.h
/src/game/object_list_processor.c
/src/game/mario_actions_moving.c
/src/game/debug.c
/src/game/display.h
/src/game/crash_screen.c
/src/game/mario_actions_stationary.c
/src/game/game.h
/src/game/mario_actions_object.h
/src/game/main.c
/src/game/obj_behaviors_2.c
/src/game/level_update.h
/src/game/behaviors
/src/game/behaviors/beta_fish_splash_spawner.inc.c
/src/game/behaviors/treasure_chest.inc.c
/src/game/behaviors/dorrie.inc.c
/src/game/behaviors/whomp.inc.c
/src/game/behaviors/water_bomb.inc.c
/src/game/behaviors/sound_sand.inc.c
/src/game/behaviors/purple_switch.inc.c
/src/game/behaviors/mad_piano.inc.c
/src/game/behaviors/grand_star.inc.c
/src/game/behaviors/seesaw_platform.inc.c
/src/game/behaviors/spawn_star_exit.inc.c
/src/game/behaviors/boo_cage.inc.c
/src/game/behaviors/spawn_star.inc.c
/src/game/behaviors/breakable_box.inc.c
/src/game/behaviors/unused_poundable_platform.inc.c
/src/game/behaviors/static_checkered_platform.inc.c
/src/game/behaviors/red_coin.inc.c
/src/game/behaviors/koopa_shell_underwater.inc.c
/src/game/behaviors/flame.inc.c
/src/game/behaviors/heave_ho.inc.c
/src/game/behaviors/ttc_treadmill.inc.c
/src/game/behaviors/beta_boo_key.inc.c
/src/game/behaviors/lll_volcano_flames.inc.c
/src/game/behaviors/haunted_chair.inc.c
/src/game/behaviors/wiggler.inc.c
/src/game/behaviors/cruiser.inc.c
/src/game/behaviors/break_particles.inc.c
/src/game/behaviors/pole.inc.c
/src/game/behaviors/ttc_rotating_solid.inc.c
/src/game/behaviors/bobomb.inc.c
/src/game/behaviors/castle_flag.inc.c
/src/game/behaviors/hidden_star.inc.c
/src/game/behaviors/sparkle_spawn.inc.c
/src/game/behaviors/bbh_tilting_trap.inc.c
/src/game/behaviors/castle_cannon_grate.inc.c
/src/game/behaviors/pole_base.inc.c
/src/game/behaviors/ferris_wheel.inc.c
/src/game/behaviors/floating_platform.inc.c
/src/game/behaviors/manta_ray.inc.c
/src/game/behaviors/cloud.inc.c
/src/game/behaviors/ttc_pit_block.inc.c
/src/game/behaviors/bowser_bomb.inc.c
/src/game/behaviors/sound_waterfall.inc.c
/src/game/behaviors/bowser_key_cutscene.inc.c
/src/game/behaviors/unagi.inc.c
/src/game/behaviors/bubba.inc.c
/src/game/behaviors/exclamation_box.inc.c
/src/game/behaviors/reds_star_marker.inc.c
/src/game/behaviors/mr_blizzard.inc.c
/src/game/behaviors/coin.inc.c
/src/game/behaviors/tower_door.inc.c
/src/game/behaviors/bomp.inc.c
/src/game/behaviors/ttc_cog.inc.c
/src/game/behaviors/hoot.inc.c
/src/game/behaviors/arrow_lift.inc.c
/src/game/behaviors/pokey.inc.c
/src/game/behaviors/ddd_pole.inc.c
/src/game/behaviors/tree_particles.inc.c
/src/game/behaviors/intro_lakitu.inc.c
/src/game/behaviors/snow_mound.inc.c
/src/game/behaviors/donut_platform.inc.c
/src/game/behaviors/swing_platform.inc.c
/src/game/behaviors/skeeter.inc.c
/src/game/behaviors/white_puff_explode.inc.c
/src/game/behaviors/snufit.inc.c
/src/game/behaviors/lll_octagonal_rotating_mesh.inc.c
/src/game/behaviors/yoshi.inc.c
/src/game/behaviors/warp.inc.c
/src/game/behaviors/falling_rising_platform.inc.c
/src/game/behaviors/eyerok.inc.c
/src/game/behaviors/tweester.inc.c
/src/game/behaviors/jumping_box.inc.c
/src/game/behaviors/flame_mario.inc.c
/src/game/behaviors/piranha_bubbles.inc.c
/src/game/behaviors/water_mist_particle.inc.c
/src/game/behaviors/klepto.inc.c
/src/game/behaviors/fire_spitter.inc.c
/src/game/behaviors/bowser_key.inc.c
/src/game/behaviors/fish.inc.c
/src/game/behaviors/lll_tilting_platform.inc.c
/src/game/behaviors/horizontal_grindel.inc.c
/src/game/behaviors/seaweed.inc.c
/src/game/behaviors/lll_rotating_hex_flame.inc.c
/src/game/behaviors/ttc_2d_rotator.inc.c
/src/game/behaviors/lll_sinking_rock_block.inc.c
/src/game/behaviors/unused_particle_spawn.inc.c
/src/game/behaviors/elevator.inc.c
/src/game/behaviors/ddd_sub.inc.c
/src/game/behaviors/grill_door.inc.c
/src/game/behaviors/rotating_platform.inc.c
/src/game/behaviors/bub.inc.c
/src/game/behaviors/switch_hidden_objects.inc.c
/src/game/behaviors/whirlpool.inc.c
/src/game/behaviors/falling_pillar.inc.c
/src/game/behaviors/monty_mole.inc.c
/src/game/behaviors/fire_piranha_plant.inc.c
/src/game/behaviors/bowling_ball.inc.c
/src/game/behaviors/sound_birds.inc.c
/src/game/behaviors/clam.inc.c
/src/game/behaviors/spindrift.inc.c
/src/game/behaviors/piranha_plant.inc.c
/src/game/behaviors/ddd_warp.inc.c
/src/game/behaviors/beta_holdable_object.inc.c
/src/game/behaviors/wdw_water_level.inc.c
/src/game/behaviors/ttc_moving_bar.inc.c
/src/game/behaviors/triplet_butterfly.inc.c
/src/game/behaviors/door.inc.c
/src/game/behaviors/sound_spawner.inc.c
/src/game/behaviors/celebration_star.inc.c
/src/game/behaviors/fishing_boo.inc.c
/src/game/behaviors/wind_particle.inc.c
/src/game/behaviors/pyramid_top.inc.c
/src/game/behaviors/snowman_wind.inc.c
/src/game/behaviors/corkbox.inc.c
/src/game/behaviors/orange_number.inc.c
/src/game/behaviors/spiny.inc.c
/src/game/behaviors/water_wave.inc.c
/src/game/behaviors/jrb_ship.inc.c
/src/game/behaviors/sound_ambient.inc.c
/src/game/behaviors/controllable_platform.inc.c
/src/game/behaviors/lll_hexagonal_ring.inc.c
/src/game/behaviors/sliding_platform_2.inc.c
/src/game/behaviors/fly_guy.inc.c
/src/game/behaviors/explosion.inc.c
/src/game/behaviors/pyramid_wall.inc.c
/src/game/behaviors/shock_wave.inc.c
/src/game/behaviors/moneybag.inc.c
/src/game/behaviors/ukiki_cage.inc.c
/src/game/behaviors/bullet_bill.inc.c
/src/game/behaviors/moat_grill.inc.c
/src/game/behaviors/water_pillar.inc.c
/src/game/behaviors/ttc_spinner.inc.c
/src/game/behaviors/decorative_pendulum.inc.c
/src/game/behaviors/blue_coin.inc.c
/src/game/behaviors/walking_penguin.inc.c
/src/game/behaviors/koopa_shell.inc.c
/src/game/behaviors/flying_bookend_switch.inc.c
/src/game/behaviors/water_mist.inc.c
/src/game/behaviors/star_door.inc.c
/src/game/behaviors/tumbling_bridge.inc.c
/src/game/behaviors/water_ring.inc.c
/src/game/behaviors/thi_top.inc.c
/src/game/behaviors/ttc_pendulum.inc.c
/src/game/behaviors/bouncing_fireball.inc.c
/src/game/behaviors/enemy_lakitu.inc.c
/src/game/behaviors/sliding_platform.inc.c
/src/game/behaviors/metal_box.inc.c
/src/game/behaviors/amp.inc.c
/src/game/behaviors/sound_volcano.inc.c
/src/game/behaviors/beta_trampoline.inc.c
/src/game/behaviors/moving_coin.inc.c
/src/game/behaviors/pyramid_elevator.inc.c
/src/game/behaviors/breakable_box_small.inc.c
/src/game/behaviors/sparkle_spawn_star.inc.c
/src/game/behaviors/express_elevator.inc.c
/src/game/behaviors/drawbridge.inc.c
/src/game/behaviors/recovery_heart.inc.c
/src/game/behaviors/swoop.inc.c
/src/game/behaviors/rotating_octagonal_plat.inc.c
/src/game/behaviors/bbh_merry_go_round.inc.c
/src/game/behaviors/collide_particles.inc.c
/src/game/behaviors/tuxie.inc.c
/src/game/behaviors/clock_arm.inc.c
/src/game/behaviors/castle_floor_trap.inc.c
/src/game/behaviors/ttc_elevator.inc.c
/src/game/behaviors/water_objs.inc.c
/src/game/behaviors/wind.inc.c
/src/game/behaviors/bbh_haunted_bookshelf.inc.c
/src/game/behaviors/scuttlebug.inc.c
/src/game/behaviors/bowser_puzzle_piece.inc.c
/src/game/behaviors/bubble.inc.c
/src/game/behaviors/water_bomb_cannon.inc.c
/src/game/behaviors/intro_scene.inc.c
/src/game/behaviors/end_birds_1.inc.c
/src/game/behaviors/bowser.inc.c
/src/game/behaviors/tower_platform.inc.c
/src/game/behaviors/boo.inc.c
/src/game/behaviors/kickable_board.inc.c
/src/game/behaviors/animated_floor_switch.inc.c
/src/game/behaviors/rolling_log.inc.c
/src/game/behaviors/beta_chest.inc.c
/src/game/behaviors/capswitch.inc.c
/src/game/behaviors/snowman.inc.c
/src/game/behaviors/white_puff.inc.c
/src/game/behaviors/music_touch.inc.c
/src/game/behaviors/cannon_door.inc.c
/src/game/behaviors/spindel.inc.c
/src/game/behaviors/ukiki.inc.c
/src/game/behaviors/sushi.inc.c
/src/game/behaviors/tox_box.inc.c
/src/game/behaviors/bully.inc.c
/src/game/behaviors/ground_particles.inc.c
/src/game/behaviors/camera_lakitu.inc.c
/src/game/behaviors/moat_drainer.inc.c
/src/game/behaviors/goomba.inc.c
/src/game/behaviors/mushroom_1up.inc.c
/src/game/behaviors/racing_penguin.inc.c
/src/game/behaviors/king_bobomb.inc.c
/src/game/behaviors/thwomp.inc.c
/src/game/behaviors/flamethrower.inc.c
/src/game/behaviors/floating_box.inc.c
/src/game/behaviors/coffin.inc.c
/src/game/behaviors/lll_floating_wood_piece.inc.c
/src/game/behaviors/intro_peach.inc.c
/src/game/behaviors/water_splash.inc.c
/src/game/behaviors/lll_sinking_rectangle.inc.c
/src/game/behaviors/chuckya.inc.c
/src/game/behaviors/blue_fish.inc.c
/src/game/behaviors/cannon.inc.c
/src/game/behaviors/checkerboard_platform.inc.c
/src/game/behaviors/butterfly.inc.c
/src/game/behaviors/boulder.inc.c
/src/game/behaviors/end_birds_2.inc.c
/src/game/behaviors/mips.inc.c
/src/game/behaviors/platform_on_track.inc.c
/src/game/behaviors/chain_chomp.inc.c
/src/game/behaviors/activated_bf_plat.inc.c
/src/game/behaviors/breakable_wall.inc.c
/src/game/behaviors/bird.inc.c
/src/game/behaviors/mr_i.inc.c
/src/game/behaviors/square_platform_cycle.inc.c
/src/game/behaviors/koopa.inc.c
/src/game/behaviors/cap.inc.c
/src/game/behaviors/beta_bowser_anchor.inc.c
/src/game/decompress.h
/src/game/mario_actions_automatic.c
/src/game/eu_translation.h
/src/game/mario.h
/src/game/rendering_graph_node.h
/src/game/hud.c
/src/game/save_file.h
/src/game/room.c
/src/game/print.h
/src/game/skybox.c
/src/game/geo_misc.h
/src/game/shadow.h
/src/game/spawn_sound.h
/src/game/object_helpers.h
/src/game/sound_init.c
/src/game/memory.h
/src/game/macro_special_objects.h
/src/game/screen_transition.c
/src/game/main_entry.h
/src/game/debug_course.h
/src/game/behavior_actions.h
/src/game/mario_misc.c
/src/game/segment2.h
/src/game/camera.c
/src/game/ingame_menu.c
/src/game/envfx_bubbles.c
/src/game/mario_actions_submerged.c
/src/game/interaction.c
/src/game/mario_step.c
/src/game/mario_actions_cutscene.h
/src/game/profiler.h
/src/game/envfx_snow.h
/src/game/platform_displacement.c
/src/game/object_list_processor.h
/src/game/object_collision.c
/src/game/mario_actions_airborne.h
/src/game/area.c
/src/game/spawn_object.h
/src/game/level_geo.c
/src/game/obj_behaviors.h
/src/game/moving_texture.c
/src/game/paintings.h
/src/audio
/src/audio/playback.h
/src/audio/internal.h
/src/audio/memory.c
/src/audio/seqplayer.c
/src/audio/synthesis.h
/src/audio/globals_end.c
/src/audio/external.h
/src/audio/effects.c
/src/audio/load.h
/src/audio/data.h
/src/audio/globals_start.c
/src/audio/playback.c
/src/audio/external.c
/src/audio/effects.h
/src/audio/synthesis.c
/src/audio/seqplayer.h
/src/audio/memory.h
/src/audio/data.c
/src/audio/load.c
/src/menu
/src/menu/intro_geo.h
/src/menu/level_select_menu.h
/src/menu/file_select.c
/src/menu/star_select.c
/src/menu/intro_geo.c
/src/menu/level_select_menu.c
/src/menu/star_select.h
/src/menu/file_select.h
/src/goddard
/src/goddard/gd_math.h
/src/goddard/dynlist_proc.c
/src/goddard/sfx.c
/src/goddard/skin_movement.h
/src/goddard/debug_utils.c
/src/goddard/gd_main.c
/src/goddard/old_menu.h
/src/goddard/gd_types.h
/src/goddard/draw_objects.c
/src/goddard/skin.c
/src/goddard/gd_macros.h
/src/goddard/shape_helper.c
/src/goddard/bad_declarations.h
/src/goddard/renderer.h
/src/goddard/gd_memory.h
/src/goddard/joints.c
/src/goddard/objects.h
/src/goddard/particles.c
/src/goddard/skin_movement.c
/src/goddard/sfx.h
/src/goddard/gd_tex_dl.h
/src/goddard/dynlist_proc.h
/src/goddard/gd_math.c
/src/goddard/skin.h
/src/goddard/draw_objects.h
/src/goddard/old_menu.c
/src/goddard/debug_utils.h
/src/goddard/gd_main.h
/src/goddard/renderer.c
/src/goddard/gd_memory.c
/src/goddard/shape_helper.h
/src/goddard/particles.h
/src/goddard/dynlists
/src/goddard/dynlists/anim_mario_lips_2.c
/src/goddard/dynlists/dynlist_macros.h
/src/goddard/dynlists/anim_mario_mustache_right.c
/src/goddard/dynlists/anim_mario_mustache_left.c
/src/goddard/dynlists/dynlist_test_cube.c
/src/goddard/dynlists/anim_mario_lips_1.c
/src/goddard/dynlists/dynlist_unused.c
/src/goddard/dynlists/dynlists.h
/src/goddard/dynlists/dynlist_mario_master.c
/src/goddard/dynlists/animdata.h
/src/goddard/dynlists/dynlist_mario_face.c
/src/goddard/dynlists/dynlists_mario_eyes.c
/src/goddard/dynlists/anim_mario_eyebrows_1.c
/src/goddard/dynlists/anim_group_2.c
/src/goddard/dynlists/dynlists_mario_eyebrows_mustache.c
/src/goddard/dynlists/anim_group_1.c
/src/goddard/objects.c
/src/goddard/joints.h
/src/engine
/src/engine/math_util.c
/src/engine/level_script.h
/src/engine/geo_layout.h
/src/engine/behavior_script.h
/src/engine/surface_load.c
/src/engine/graph_node.h
/src/engine/surface_collision.h
/src/engine/math_util.h
/src/engine/graph_node_manager.c
/src/engine/surface_collision.c
/src/engine/surface_load.h
/src/engine/graph_node.c
/src/engine/level_script.c
/src/engine/behavior_script.c
/src/engine/geo_layout.c
---
References